Technology has undeniably made it much easier for brands to take their products to a global market and continually communicate with their audiences. With up to 1.2 zettabytes per year of internet traffic, digital platforms like Facebook, Twitter, Pinterest, and other ad networks have become the number one way for online retailers to attract shoppers. But over the years, digital advertising has been going wrong and the biggest of brands have been taking a hit.
What is brand safety?
Brand safety is defined as a strategy that a business puts together to ensure that no online advertisements of associations appear on or in websites, articles or videos that conflict with the brand's core image, vision, and mission.
The dirty dozen or the categories that most brands don't want to be associated with include the following: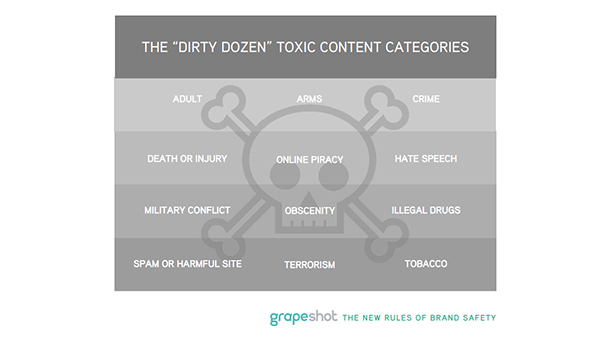 Does brand safety impact you?  
A study published on Marketing Dive shares that 75% of companies are affected by brand safety, yet only 26% of them take action.
But what's worse is that a lot of brands lost 13% of their revenue to compromised brand safety online, and it's not just the smaller brands. The biggest in the industry are also being impacted by brand safety – right from Heinz, Rado, Mercedes and more.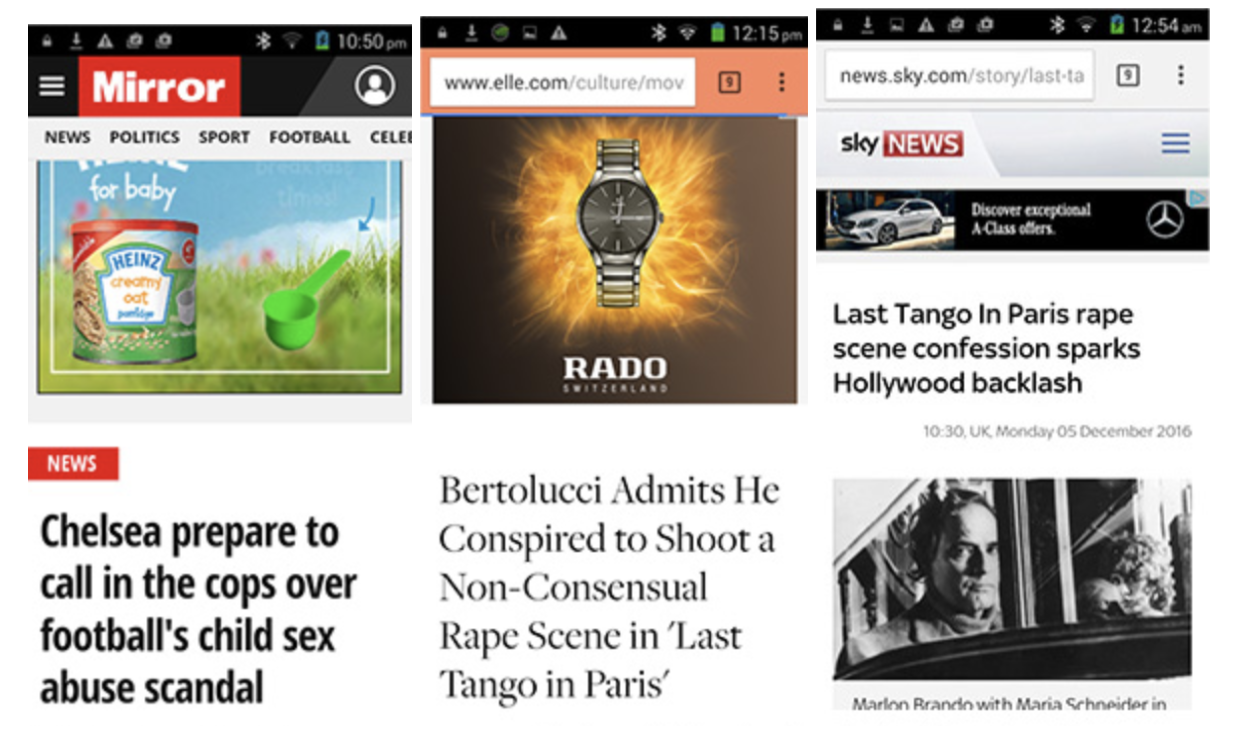 The ill-placed ads associated them with content that was irrelevant to them. It went against their brand guidelines and also ended up giving them a negative name in their target market. This led to the even the top-most brands in their niches losing market to the modern consumer that cares about the value that a brand really brings.
If you don't believe us, here are some interesting statistics on the same: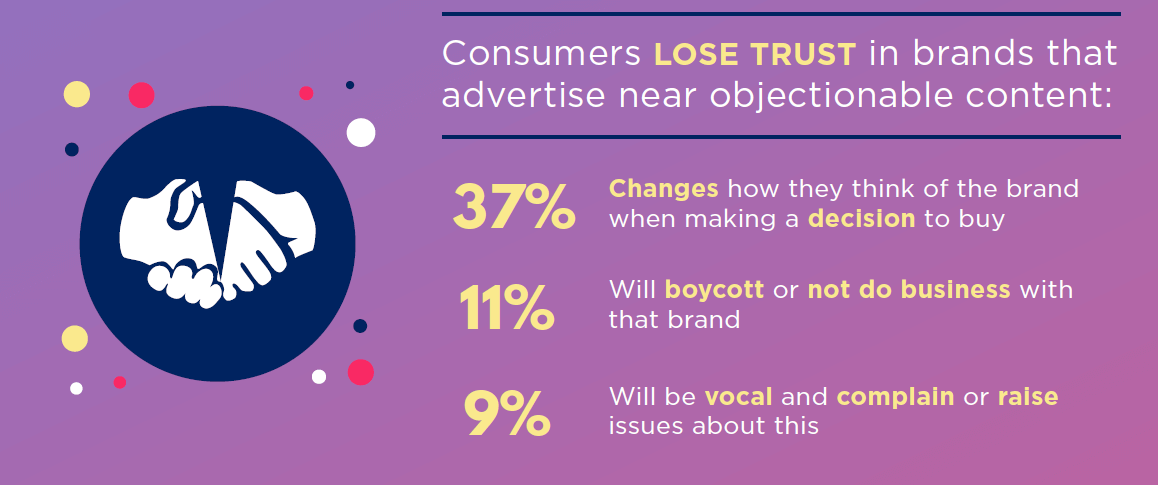 While pulling their campaigns out from the programmatic advertising environment was the first thing these brands did to save their image in the market, there is still the one place that often goes unseen – their own website.
Is your website really brand safe?
You have a robust infrastructure in place to ensure that no one hacks into your website. You have also made sure that your customer data remains safe at all times – right from their account details to the transactions they make.
But what about how secure your brand's site is at the consumer end.
You're keeping your ads away from showing up next to wrong content, but what about the wrong content showing up on yours?
A typical consumer has about tens of browser extensions and web apps installed. Be it to make them more productive at work or simply compare the prices of products across different online retailers. But these extensions do more than just what they're supposed to – adware.
The consumer's browser actually ends up injecting different kinds of adware into your site. So while you believe your site looks product focused and conversion optimized, here's what the truth is: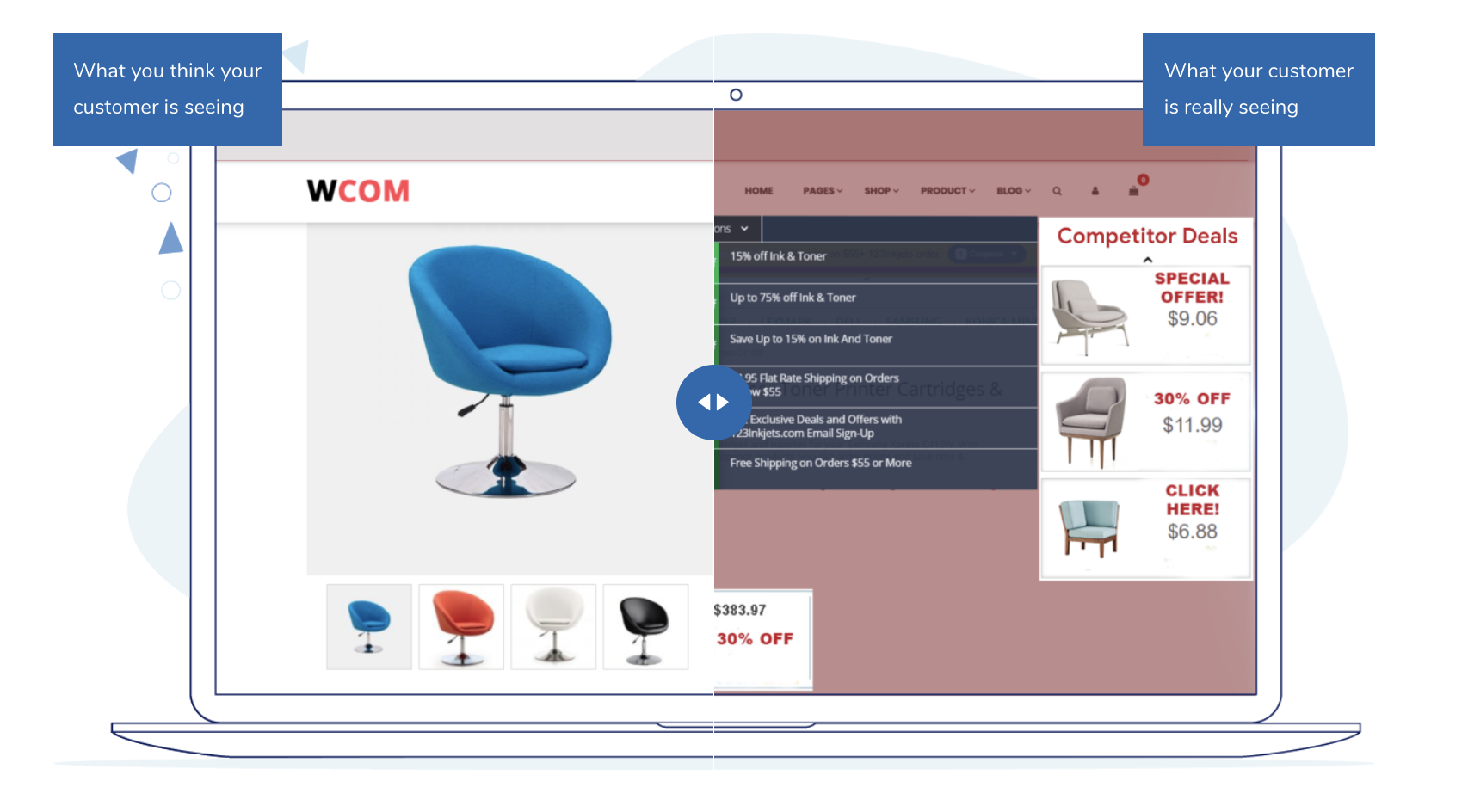 Now imagine you're promoting a brand message that speaks of eco-friendliness and sustainability. Your campaign drives a shopper to your online retail store and they get bombarded with ads displaying adult content on your site.
There are two things that will happen in that very minute – the shopper will lose faith in what you're promoting because they will associate the content with you, and you will lose a sale almost as immediately.
Taking brand safety to the consumer
The very first step to brand safety is identifying the content that can potentially do harm to your business image in the market. This usually varies from brand to brand and depends a lot on the kind of consumer market they want to appeal to. But blocking out the toxic categories and tweaking your advertising campaigns to not show up for them, isn't enough to block them from your site.
Here's what you need to do next to keep your site safe on the consumer's browser.
1. Identify the different types of shoppers
There are five types of shoppers that all online retailers see – price-sensitive, experience, ready-to-purchase, latest product, and best product shoppers. Each of these shoppers has distinct characteristics and behavior on the website.
For instance, an experience shopper is one that would want a frictionless shopping experience. Right from being able to find the products they are looking for to completing the purchase, they want to be able to do it all without a roadblock.
On the other hand, a price-sensitive shopper is willing to compromise on the experience. They are more focused on being able to get the best deal and reduce their cart total.
2. Understand the distractions they are exposed to
Once you know which category majority of your shoppers fall into, it becomes easier to understand their typical shopping behavior and the distractions they could possibly be exposed to.
Extensions like price comparison tools inject adware into the consumer's browser. This adware results in a few common distractions popping up on your site – price comparisons, competitor ads, intrusive pop-ups, adult content and video ads.
3. Shield your audience from browser distractions
There are tens of thousands of adware strains that are injected into the digital landscape every day. With the number of digital platforms growing by the day, it is only becoming next to impossible to keep track of all the adware strains and identify them.
That's where technology comes into play. Using machine learning you can scan your consumer's browser for adware strains in real-time, identify the distractions they may cause and disable them before they interrupt the shoppers with irrelevant content or lure them away to a competitors site.
With Shield though, all you need to do is add a simple line of code to your eCommerce store. It then makes sure that no matter what device your consumer is accessing your website from, they remain protected from any possible adware that the browser might inject.
By keeping adware away from your consumer's browser, you make sure that no content that hampers your brand image shows up on your site.
Brand safety on and off your online store only means a higher number of conversions, sales, and revenue.
Is your eCommerce business brand safe?
Let us show you.