The fast-paced growth of the eCommerce industry is making it challenging for online retailers to grow their business. No matter what niche they are in, their target market always has at least a hundred other stores to choose from.
So while everyone competing on acquiring more customers from the same target market. We sat down to study how global brands fuel their growth.
Here are some strategies that they use to increase eCommerce revenue.
Strategies to increase eCommerce revenue
Leverage remarketing campaigns  
Customer acquisition costs are increasing by the day. Considering the number of stores competing for the same audience, it is obvious.
We're not asking you to stop your acquisition campaigns. We're only telling you that it is time to optimize the reach and results of those campaigns with remarketing campaigns.
The logic is simple.
Someone visits your store, they already know about your brand. So the next time they see your ad, they are more likely to convert on the very first time and at a lower acquisition cost – but only when you strategize well.
Here are a few remarketing campaigns that online retailers should use to increase eCommerce revenue:
1. Offer a first-time incentive to new visitors
Now, most eCommerce businesses make use of generic ads to keep their new visitors engaged. While they might get you a few clicks, these ads won't necessarily convince the shopper to make a purchase.
Consider them to be at the top of the funnel.
Just like you need a product demo before you start using one, a shopper needs an incentive to choose your store to buy from.
Imagine discovering a new brand on Instagram. You visit their store, browse through their products, add a few to the cart and wishlist some too. But you come away without making a purchase – the brand's too new for you and you want to ensure you're bagging a good deal.
With remarketing, you can nudge these new visitors to make their first purchase. A little surprise gift, a small goodie or a first-time purchase discount.
2. Personalize and promote product categories
This one is a little obvious.
A shopper comes to your store, browses through a few products and then leaves. This is a shopper that you should be re-engaging by promoting more products from the range they were interested in.
It's almost like a sales follow up.
This type of remarketing campaign does two things – reinforces the need for the product and also remind the shopper of the products they have liked. Here's a very simple depiction of how this works:
All you need to do is that instead of showing them the same product over and over again, promote the entire product range.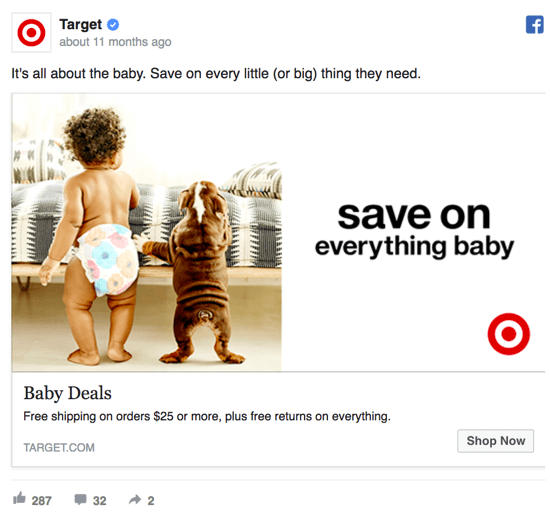 3. Re-engage the cart abandoners
The average rate of cart abandonment has reached a whopping 80% in some industries. And distracted shoppers are to be blamed.
A typical online shopper discovers a store through an ad on social media. While they visit the store and browse through the products, they are also using chat apps, watching TV, checking email and doing ten other things. It's only obvious for us to get distracted and not complete a purchase we intended to make.
All that these shoppers need is a little reminder and a subtle push to convert.
For instance, you add some shoes to the cart, but leave the store without making a purchase. With this remarketing campaign, the store will target you with an ad that reminds you of this product and also offers a little discount to sweeten the deal for you.
A lot of brands also use this campaign to create a sense of scarcity and urgency around the abandoned products.
4. Upsell to active buyers
The fastest way to increase eCommerce revenue is to keep your customers engaged. After all, customer retention is 5X cheaper than customer acquisition today.
All you need to do here is focus on the purchases that a customer has made from your store. Use the data to find products that they are more likely to purchase as well and then promote those to them.
We'll give you a simple example from Guaranteed PPC.
If a shopper buys a toothbrush from your store, it is likely that they will also purchase a toothpaste too. While they might not need it right away, it is almost certain that they will in a few days.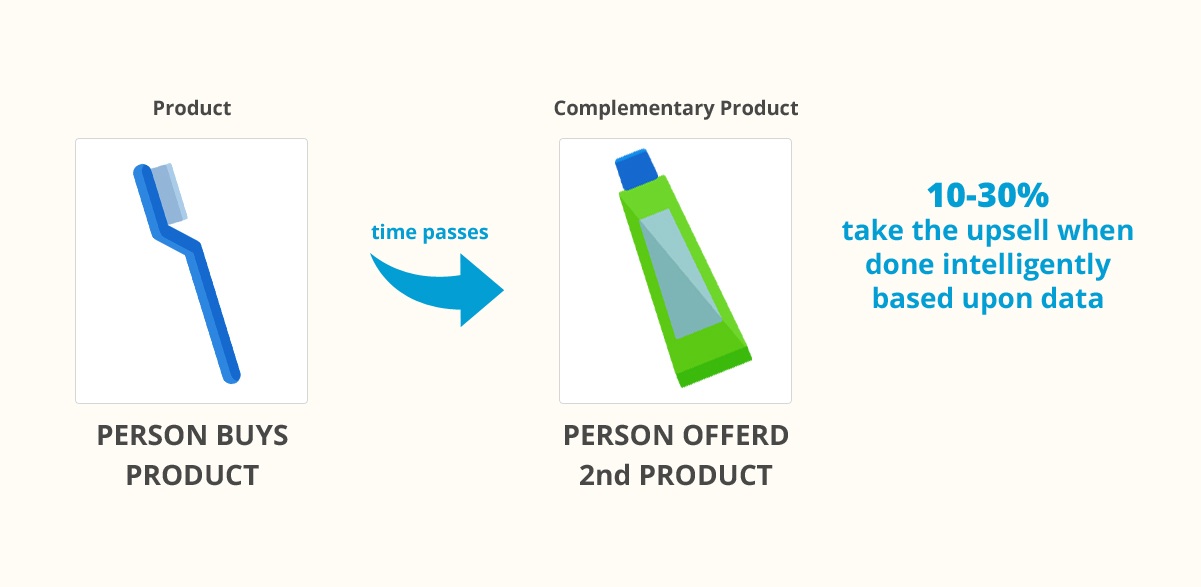 5. Continue re-selling to customers
Based on the products you're selling and how long it takes for a customer to consume them, create re-selling campaigns.
These campaigns simply target reaching a shopper when they are most likely going to purchase the same products. It's almost like your monthly grocery shopping!
Here's an example.
Your store sells health supplements. Based on the product a customer purchases, you can gauge the number of days it will take for the product to finish – say multivitamin tablets. Using that data, you can reach out to this customer with a remarketing campaign asking them to stock up.
Ps. Never forget marketing to the impulse buyers!
Use Instagram to drive more traffic
There are 1 billion people that use Instagram every month. In fact, 38% of its users check Instagram multiple times a day.
Considering how active the millennial shoppers are on the platform, not using it to promote your online store would be silly. Even the biggest of brands are using it today!
You can post product images along with descriptions that help your target shoppers understand more about the product. Using hashtags you can get more people to discover this post and eventually drive more traffic to your store.
Alternatively, you can run paid campaigns to drive traffic to your eCommerce store or acquire more shoppers. All you need to do is follow the same rules as for remarketing campaigns to keep your budgets optimized and present the best aspect of your products!
What's more?
According to Facebook, 36% of active Instagrammers love to shop. You just need to reach them in a relevant manner and make it easy for them to make a purchase.
That's where the Instagram shoppable posts come in.
The biggest brands across industries are using this feature to make their posts more interactive and actionable. Here's what shoppable posts look like: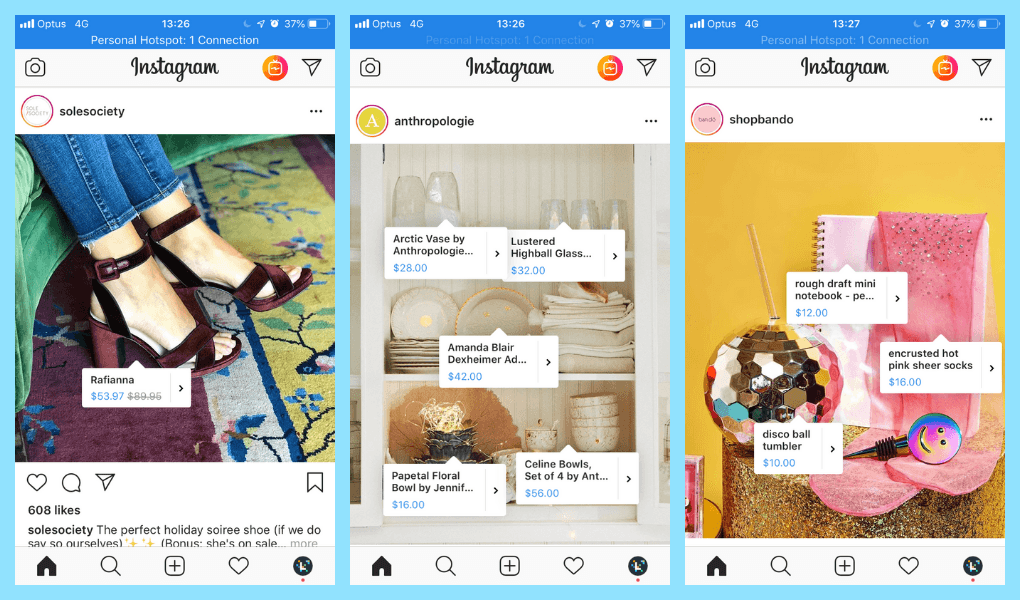 All a user needs to do is tap on the image to know the price of the product and click 'checkout on Instagram' to make the purchase – all without leaving Instagram!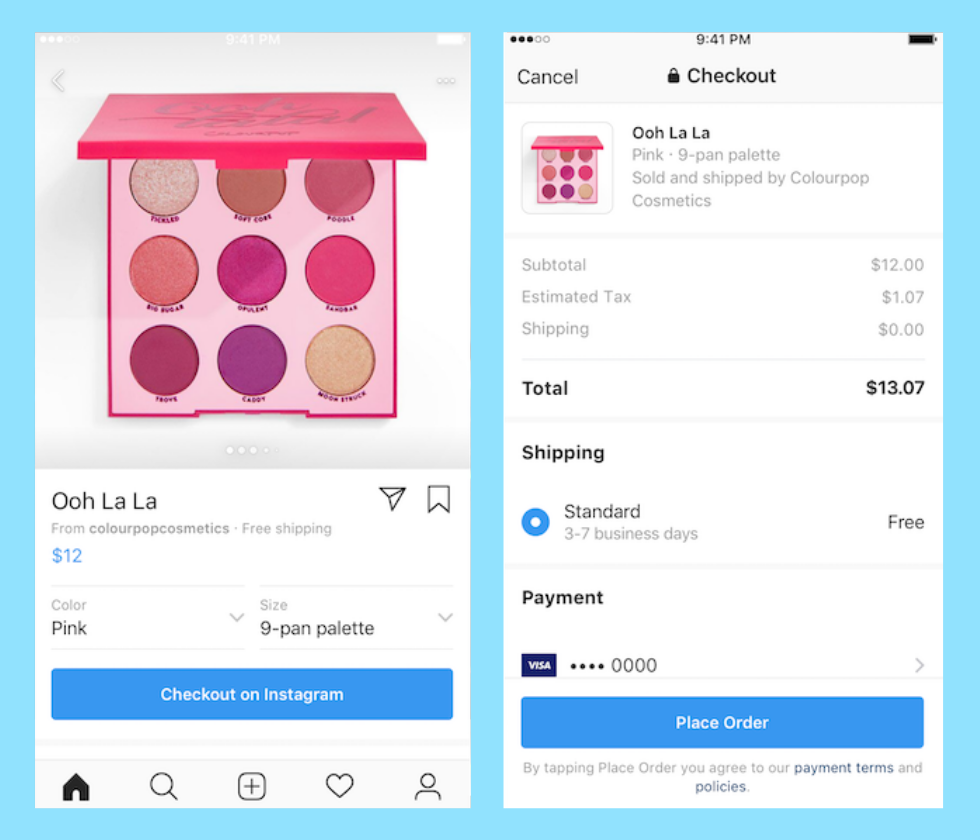 Later actually published a complete guide on using Instagram Shopping to increase eCommerce revenue. Check it out here.
Don't let competitors steal your site visitors
You're making efforts to drive organic traffic to your store.
You're also running a number of paid campaigns to drive traffic to your site and acquire more customers.
The last thing you need is a competitor stealing shoppers from your site itself. And yes, it is possible.
Online shoppers use a number of browser extensions and web apps on a daily basis. These tend to inject competitor ads, price comparisons, and other unauthorized promotions onto your store.
So while you believe that a visitor acquired through SEM campaigns is seeing a store or a product page as clean as this…
The truth looks something similar to this…
Studying and working with global brands like Kirkland's, Footwear, etc. and others, we found that almost 16% of a store's traffic is exposed to these ads.
But that's not all. An https or a CSP doesn't cut it when it comes to preventing unauthorized promotions from getting injected onto your pages.
You need to be able to monitor, analyze and identify the adware strains that these extensions and apps are infected with on the consumer's browser.
And then you need to stop them from showing up.
Now you can't possibly analyze 13,000+ adware strains every day. That's where you put Shield to work.
Shield gets to work with just one line of code added to your site. With a team of R&D experts in the background, it analyzes these adware strains and works towards proactively to stop any of the competitor ads from showing up on your site.
Here's the difference Shield brings to Kirkland's (read the complete story):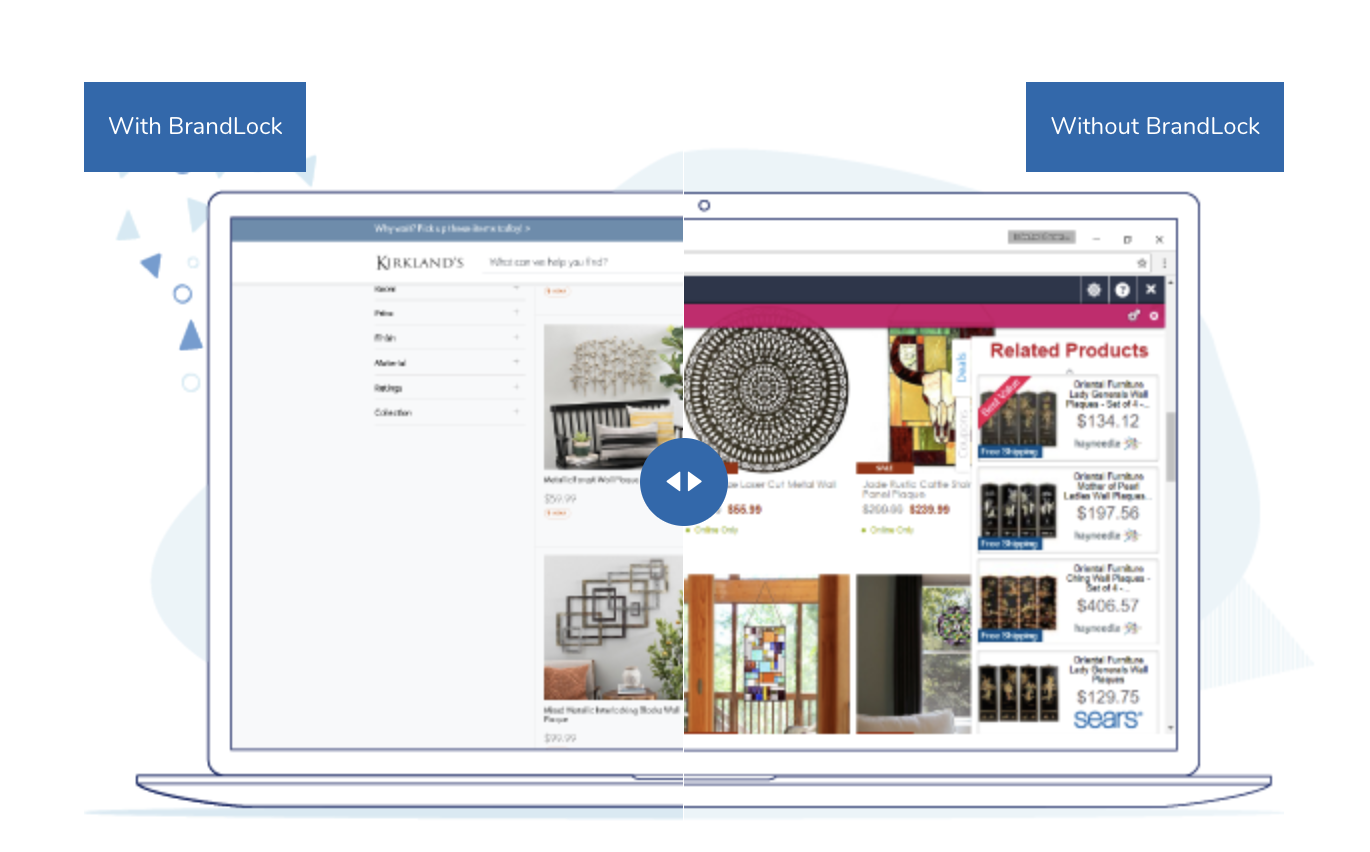 Optimize your affiliate payouts
You're spending thousands of dollars on your marketing and sales campaigns.
You also have affiliate programs running to drive new traffic to your site.
But what if your affiliates have been double charging you for simply sending back your own traffic?
Here's what we mean.
You drive traffic to your store. The shopper adds products to the cart. On checking the cart total, they want to now look for a deal or a discount they can avail.
So they open another tab and use the search engine to look for coupons. Considering how frequently coupon sites get indexed, your affiliates are more likely to show up at the top of their search results.
They're going to copy a coupon from the affiliate site and come back to their cart to try it.
If it doesn't work, they are going to repeat the above and come back with another coupon.
But all this while, the shopper doesn't even consider checking your site for the same coupons.
So when they do find a valid coupon from an affiliate site, you bag a sale. But at the same time, you also pay this affiliate for giving you a customer that was already yours.
Now, what if you could identify this price-sensitive shopper and offer him all the coupons on your site itself?
You'll be able to make sure that your affiliates only charge you for sending in new shoppers.
Engage plugs into your eCommerce store with a simple line of code. It then tracks your shopper's actions across the store, taking note of their preferences and purchase behavior.
So when the shopper adds products to their cart and is just about to leave your site looking for coupons, Engage hooks their interest back with an engagement window.
This window presents all the ongoing coupons on your site and what the shopper can find on affiliate sites. All you need to tell them with a clear messaging is that they don't need to go elsewhere looking for deals!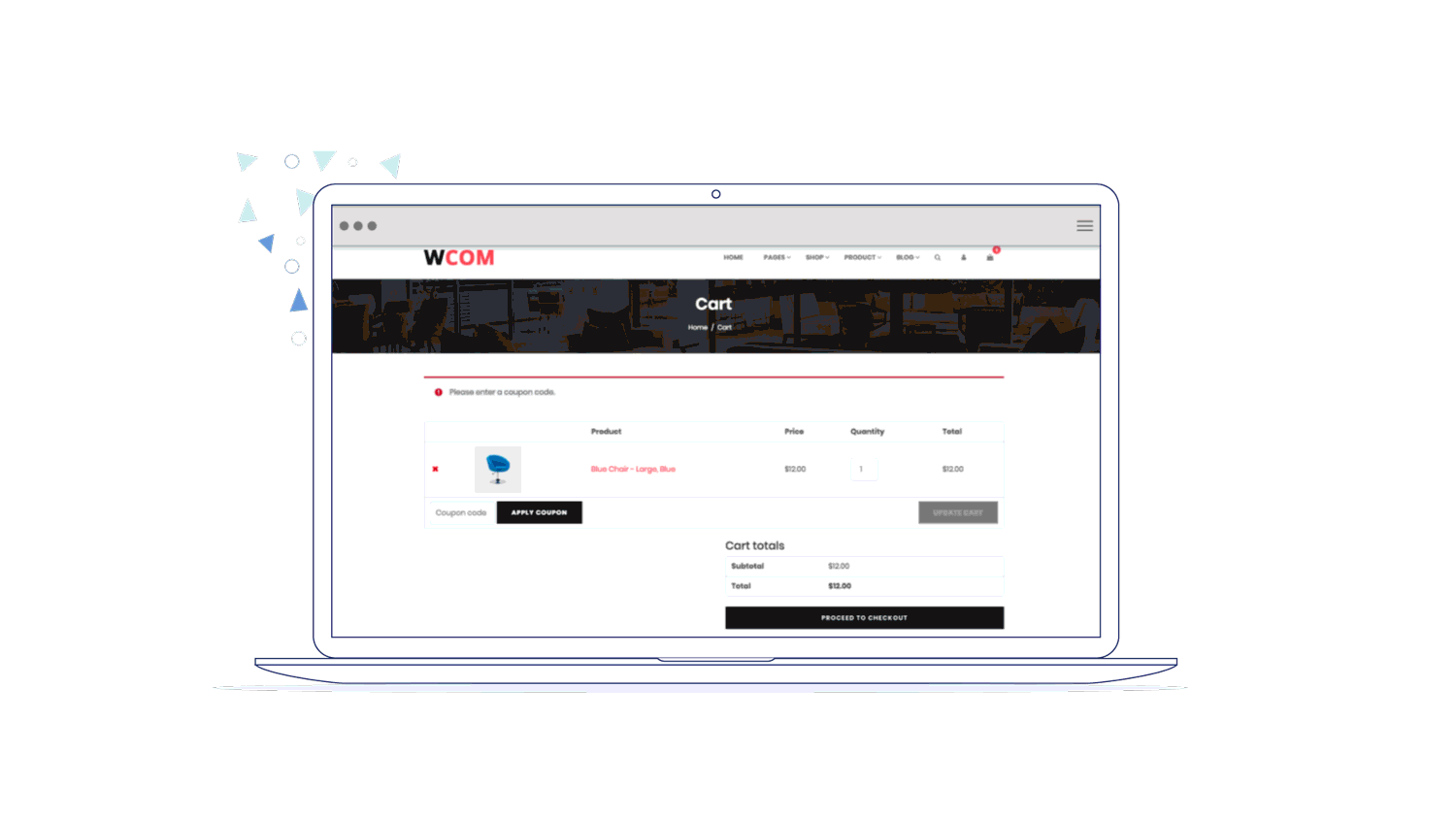 Affiliates continue to remain one of the biggest channels for driving sales for an eCommerce business. But when you let them send you only new traffic and stop paying them for redirecting traffic that you acquired through SEM channels, you only optimize your spends.
Optimized spends equal increased revenue. The math is simple there!
Increase eCommerce revenue
When your goal is to increase eCommerce revenue, it is all about identifying the channels your target shoppers are the most active on and making the most out of them.
Be it social media or the coupon sites that price-sensitive shoppers tend to visit more often, continually monitor and analyze the revenue your efforts are driving in. Optimize your strategy to ensure each channel gets your store more exposure and more sales.
Ready to increase eCommerce revenue?
While you implement other strategies for your online store, start by blocking out competitor ads from your store to start recovering the sales you're losing.
Let us show you how brands like Nine West, Kirkland's and others do it.