The internet user's attention span is said to be the same as a goldfish. Considering the number of brands launching their online stores, how is it that we expect online shoppers to be more focused? With cart abandonment rates reaching 81%, it is time to bring in new technology to your eCommerce enterprise stack to keep your visitors engaged and increase on-site conversions.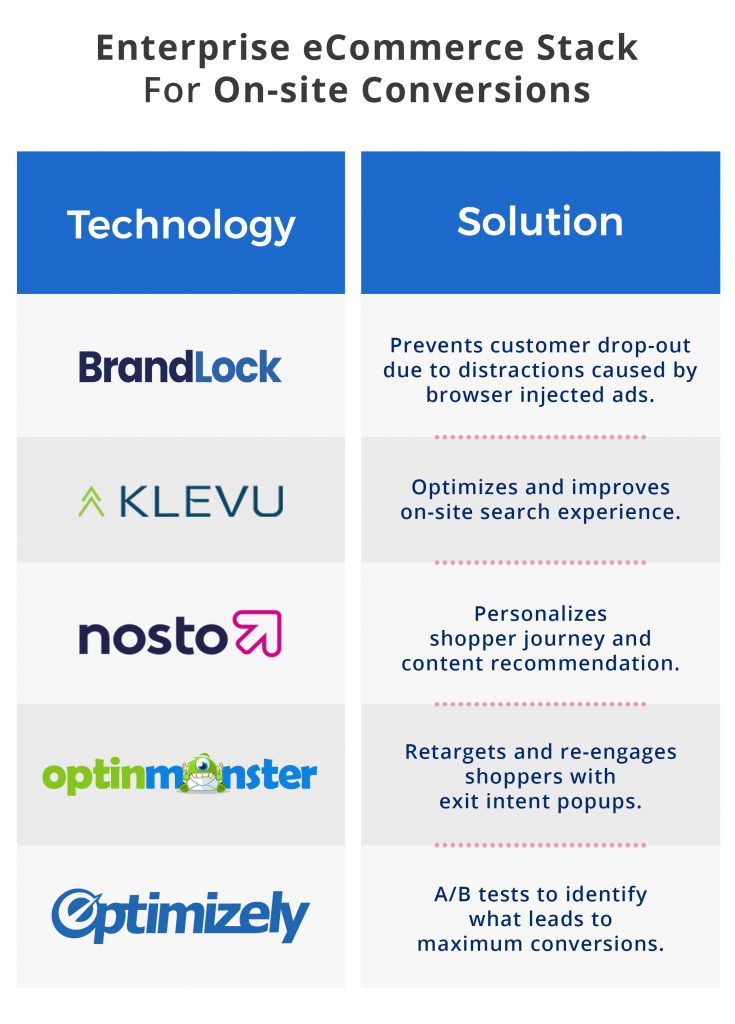 Five technologies every eCommerce enterprise stack needs to increase conversions
1. Remove distractions with BrandLock
Your shopper could be sitting in an office surrounded by tens of people continually talking. Your shopper could also have multiple tabs open on his browser – one for browsing Facebook, one for work, one for Google searches and one for your store.
While that's already a lot to keep the shopper distracted, the distractions caused by browser injected ads make it worse.

By distractions, we mean popups, competitor ads, videos and adult content that gets injected onto your site by web apps and browser extensions on the consumer side. So even though you've optimized your site for a smooth shopping experience, what the shopper sees is entirely different.
The only way to stop 80% of your shoppers from being lured away by these distractions, is to remove them. But when every shopper sees different distractions, how do you ensure that?
BrandLock Shield leverages the power of machine learning to identify the browser injected ads on the consumer side actively. It then disables the distractions before they even show on your site, keeping the shopper engaged with the content you offer.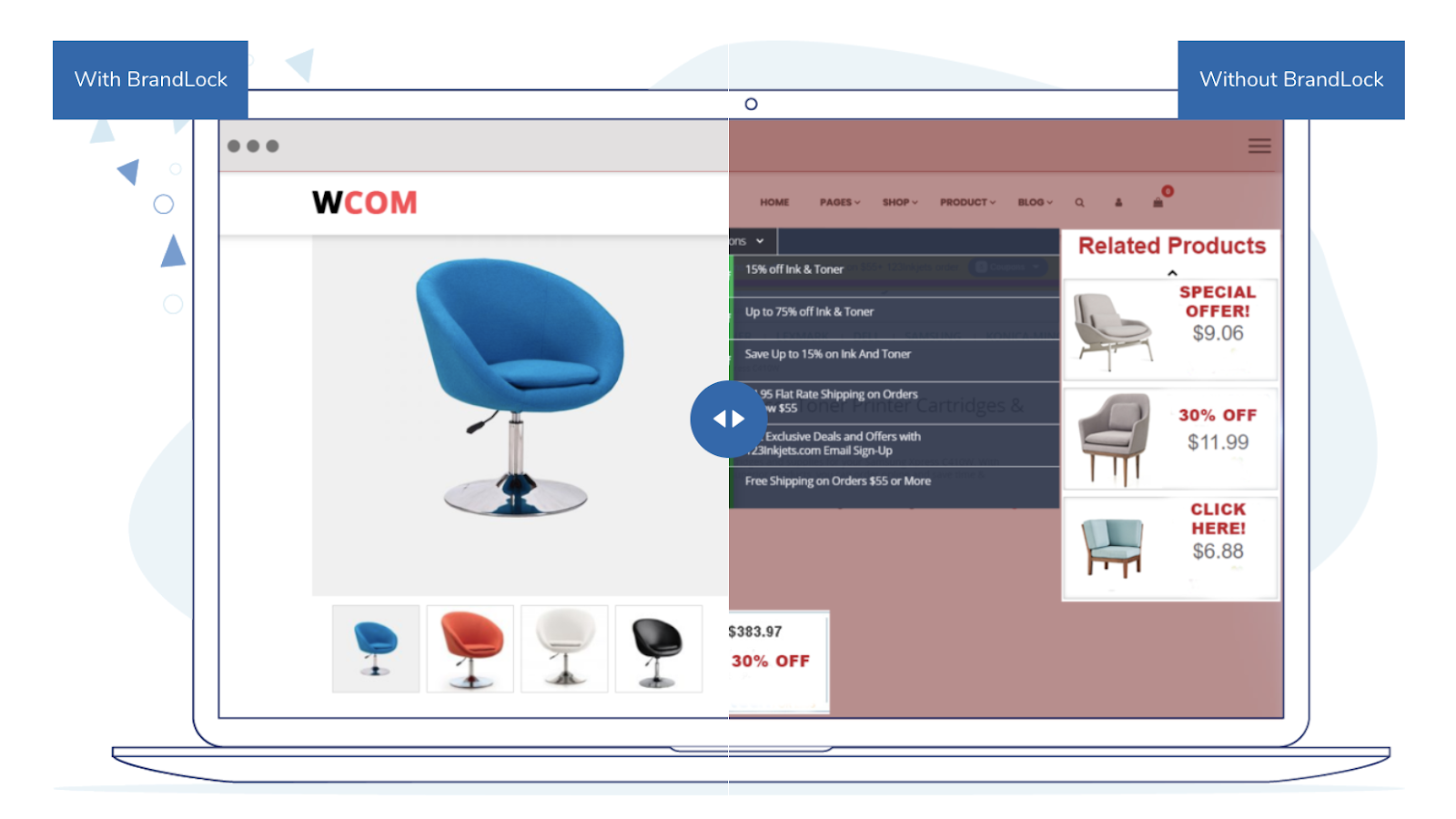 With the distractions removed, it is time to connect the shopper to the product they're looking for in seconds to increase conversions.
2. Improve site search with Klevu  
Econsultancy states that shoppers who completed a successful search on an online store were 1.8 times more likely to purchase those who didn't. But it is also a fact that not all online shoppers have the same search behavior. No two shoppers use the same search term to look for products.
For example, shopper A might search for t-shirts using the keyword 't-shirt.' Shopper B might do the same search using 't-shirt', and shopper C might just use 'tees.' In all the three scenarios, your store should be able to make the right product suggestions.
Klevu helps you connect shoppers to the right products with smart search. It actively learns from search queries, products clicked, products purchased and other shopper data to optimize search results.
Simply put, no matter what term the three shoppers use to look for t-shirts – synonyms, misspellings, plural/singular, they will be shown the relevant products.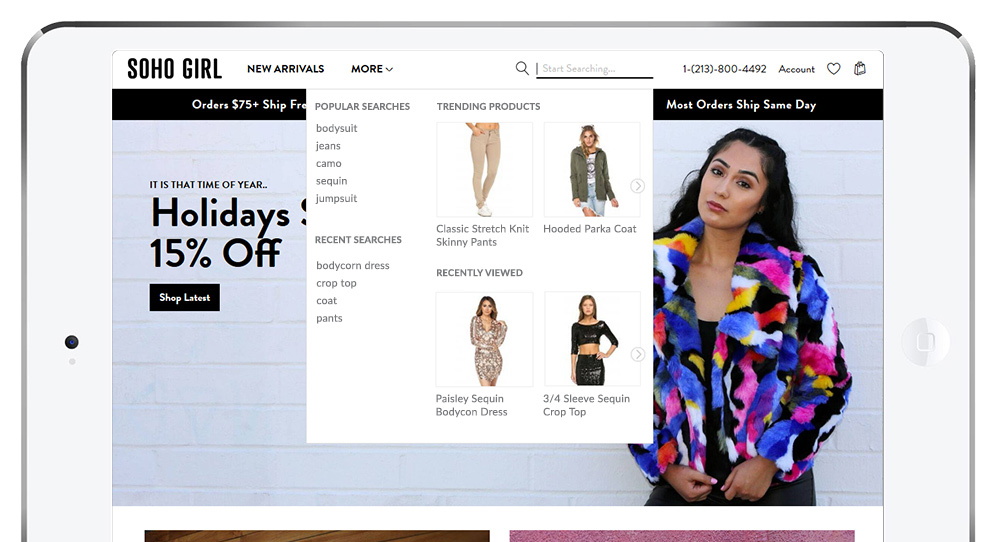 But connecting your shoppers to the right products isn't enough. Most of your shoppers will not make a purchase on their first visit. That's why you need to optimize their experience.
3. Personalization on-site experience with Nosto  
About 81% of your online shoppers expect brands to use their data to personalize their journey with them. Right from understanding their purchase preferences to recommending products on their second visit. But how do you do this for thousands of visitors coming to your store every day?
Nosto makes smart personalization easy. The AI-powered personalization solution monitors the way different shoppers interact with your site. It then works in real time to help you automate and personalize 1:1 content recommendations – recently viewed products, product recommendations, targeted popups and content suggestions.
Apart from the website, it also helps you personalize a shopper's journey across all digital touch points.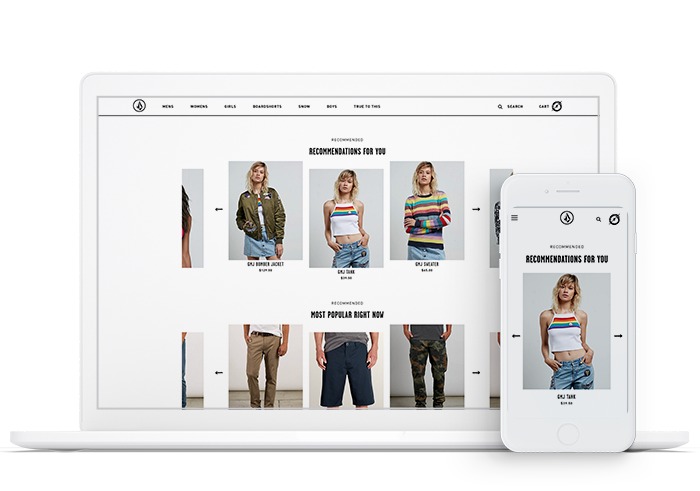 Now personalization can improve a shopper's journey on your online store. But there are still distractions that might lure them away. That's why you need the last shot at re-engaging this leaving visitor.
4. Retarget with OptinMonster exit-intent popups
A visitor who is leaving your online store is most likely distracted by something. It could be something offline or something in another tab that piques their interest.
Using their intent to leave your site, is an excellent opportunity to try and convert them before they go.
OptinMonster tracks a visitor's on-site behavior and predicts when they're about to leave your site. Using this data, you can target them with a custom message that re-engages them immediately.
Let's take an example. You're leaving a cart full of items worth $1000. Just as you're about to go, the store offers you a 30% discount on the cart total. This will immediately bring your attention back to the cart and nudge you to complete the purchase.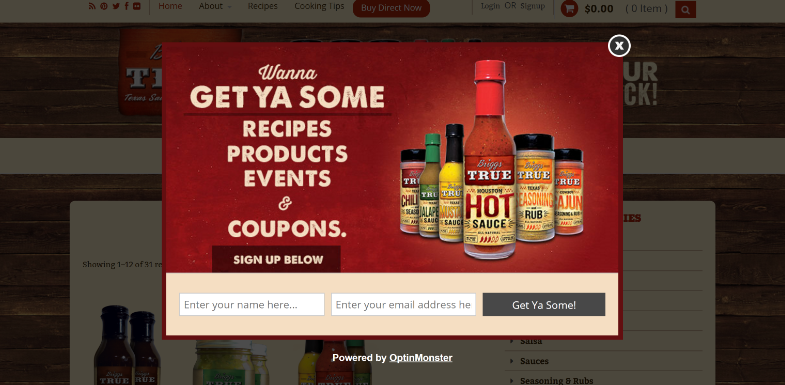 But on-site optimization doesn't end there. You need to improve the shopping experience you offer continually. This might include changing how you place the 'buy now' button on the product pages or the placement of banners promoting your ongoing sales.
5. A/B test with Optimizely
As time goes, you need to change the way your online store looks. You might optimize your product pages to make them more interactive with images and videos. You might include or reduce the steps in your checkout process.
But you wouldn't the impact these changes make if you don't measure them carefully.
Optimizely helps eCommerce marketers and product teams test these changes on the site. They expose a specific group of visitors to the changes, monitor how they interact with the new elements and measure the impact it has on the overall conversions. It then helps you compare the conversions with the other group that sees the site the same way it was, helping you pick what wins more sales for you.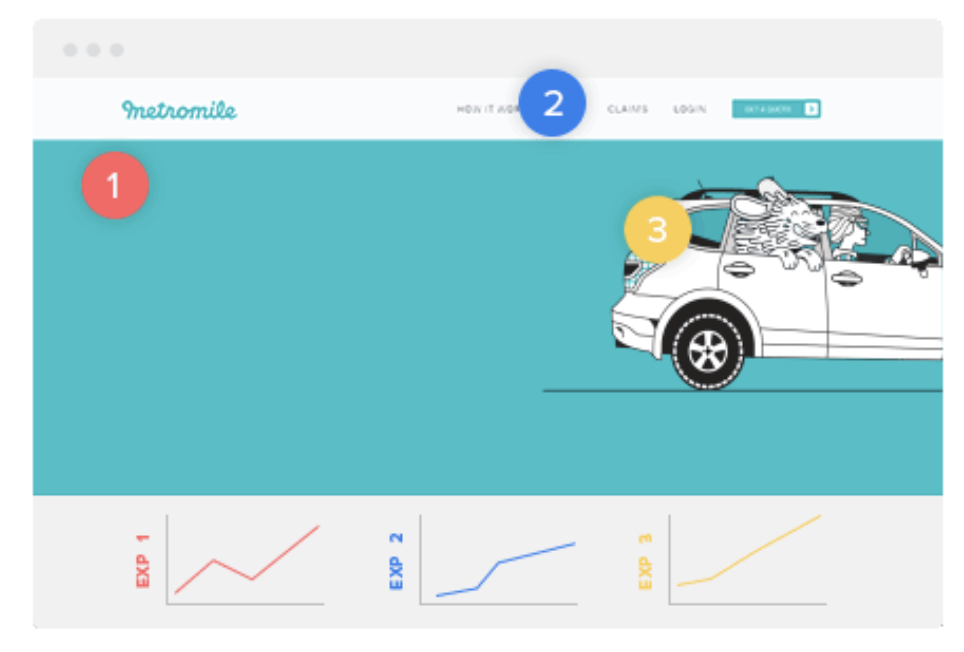 In addition to testing, Optimizely also helps you track the conversion path of shoppers. It enables you to see how many pages they visited, what elements they clicked on, how many visits to the site it took and more, before finally making a purchase. This data helps you optimize their journey to conversion.
Increasing conversions with a consumer-first approach
Yes, the tools above can help you better the shopping experience your site offers. But nothing can guarantee a 100% that every visitor will turn into a customer.
That's why you need to think like the customer when implementing the above eCommerce stack. Start by understanding the different type of shoppers that your site gets, what could be possibly distracting them, the reasons why they abandon carts and most importantly, why they choose to make purchases.
It's only then that you can increase your on-site conversions and overall sales.
Ready to increase your on-site conversions?
Let's take the first step by removing shopper distractions with BrandLock. 
Implemented the enterprise eCommerce stack for improving your on-site conversions? Don't forget to subscribe to our blog to be notified of the next in the series of improving eCommerce conversions: Technologies you need to increase your off-site conversions.