Generally, coupons and cashback sites play an important role in a brand's affiliate marketing program.
eCommerce brands use them to drive sales and revenue from deal-seeking or price-sensitive consumers, help move surplus inventory, and generate abundant brand awareness.
But brands need to rethink the risk versus reward returns when investing extensively in the affiliate ecosystem. 
Affiliate marketing scams, cookie stuffing, coupon extensions, and false attribution are all risks that eCommerce brands confront when engaging in affiliate marketing, resulting in decreased margins and heavy revenue loss.
In this article, we explain why resizing your affiliate coupon marketing investment is necessary and suggest alternative options that can help reduce your marketing efforts without risking sales and customer engagement.
What is Affiliate Marketing? 
Put simply, Affiliate marketing is an advertising model in which a business pays third-party publishers (other websites, retailers, or influencers) to promote its products and services to bring new customers and sales to its website.
The affiliate earns a commission when they actually create value for the online business; such as filling a form (for lead generation) or buying a product.
The sales are tracked via affiliate links from one website to another. 
Most online retailers partner with affiliate marketing platforms (e.g., ShareASale, CJ Affiliate, ClickBank) to manage the affiliate commission payout. Most of these platforms follow a last-click attribution model to determine if the affiliate has earned the credit for a particular conversion or sale.
Affiliate platforms can identify where customers are visiting from, by using first-party cookies. This allows them to identify the publisher (eCommerce store), the advertiser (affiliate), and the agreed commission.
The Clever Way Affiliate Coupon Websites Make Money
A number of affiliate coupon websites take unfair advantage of the last-click attribution model and generate millions of dollars in revenue. They claim to "promote" digital coupons on behalf of online retailers.
Let's walk through what it means for an affiliate coupon website with an example. Say you are going to make a purchase on Old Navy, you add items to your cart and then fire up Google in search of better deals and offers.
So you type "Old Navy + Promo Code".
You click on the Coupon Affiliate Website link in the search results, which takes you to a page of "Old Navy Coupons".
You then need to click on the 'Show Coupon Code' or "Get Deal". You click the button and notice that oldnavy.gap.com opens on a new tab with an affiliate tracking URL. So, when you buy from Old Navy, the Coupon Affiliate Website gets a commission no matter what you buy.
As an online retailer, you end up paying a commission for a shopper who already visited your website; plus the discount from a valid promo code. Together, it takes a bigger bite out of your product margins.
For instance;  
| | |
| --- | --- |
| Price of an Old Navy black jean jacket for men  |  $75 |
| Affiliate commission (4%) |  $3.00 |
| Promo code discount (10%) |  $7.50 |
| Total revenue leakage |  $10.50  |
Another common issue with coupon affiliate websites is invalid promo codes. When a shopper visits an affiliate coupon site, clicks on the coupons, and is redirected to the shopping cart, and the site takes credit if a coupon is successfully applied or not.
A few things may happen to the customer's journey after applying an invalid coupon code:
Price-sensitive customers may get frustrated and abandon the shopping cart, leading to lost revenue.

Customers may complete their purchases irrespective of the invalid coupon code. This means you end up paying affiliates commission for shoppers who already visited your website and were willing to pay the full retail price!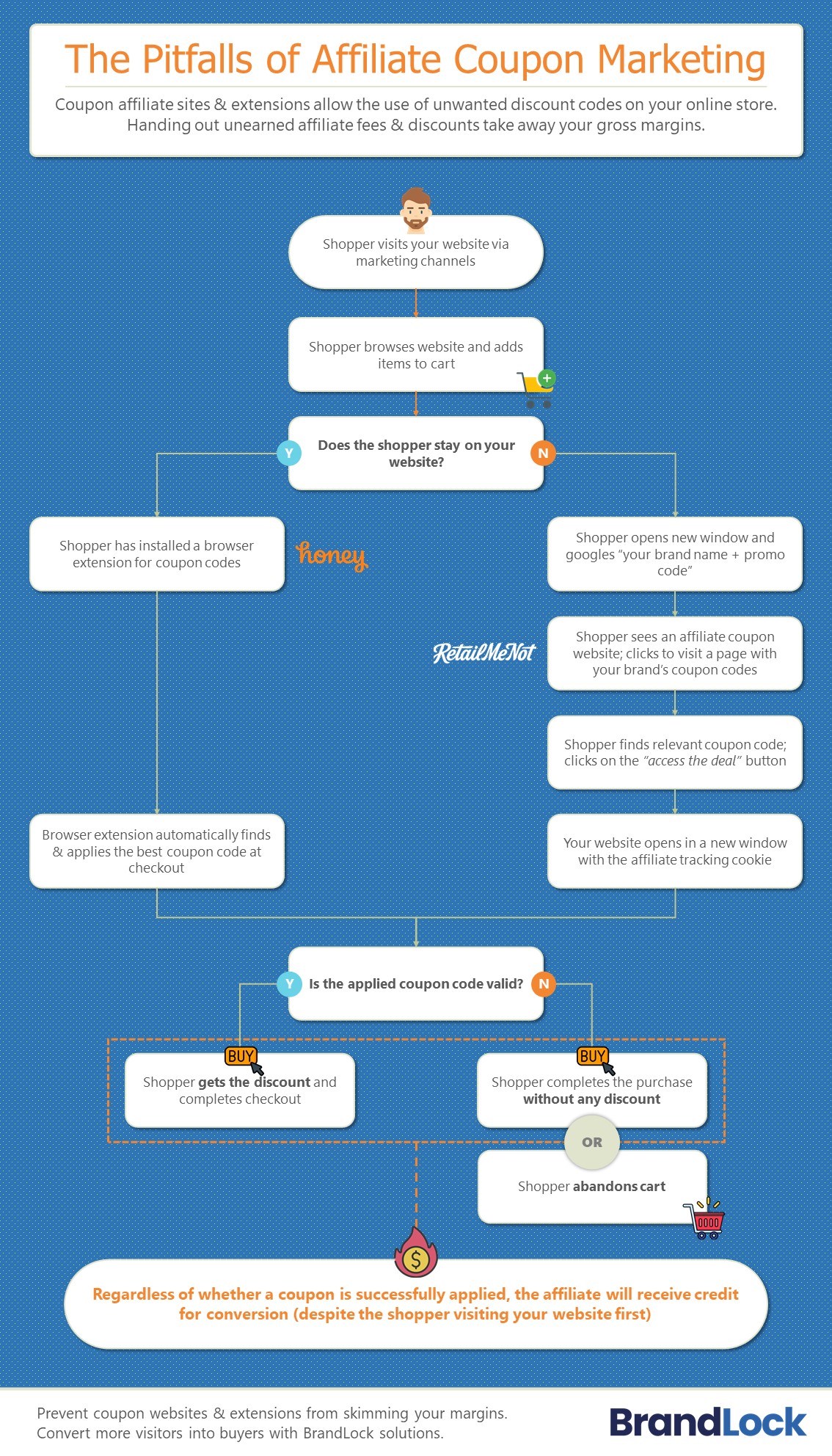 Avoid Overpaying And Handing Out Unearned Discounts
Unfortunately, the coupon affiliate ecosystem gives eCommerce brands short-term benefits with increased conversion rates but harms the brand equity and long-term health of the online store's business.
There are a few ways to counter the harmful effects of this issue, but eCommerce leaders need to relook and resize their coupon affiliate marketing strategy.
Identify customer intent and behavior, and react in real-time with personalized promotions. 

Reduce customer frustration by

removing

coupon extensions

and offering the right deal at the right place at the right time. 

Detect deal-seeking customers who are about to leave your website for promo codes and offer a personalized offer to prevent cart abandonment.
Conclusion
There is no solution in the market that understands this facet of the online buyers' journey.
Our approach allows us to infuse technology and buyer behavior to ensure brands pay commissions to affiliates that actively promote their products.
We understand that affiliate marketing is an effective advertising model for eCommerce companies to generate traffic and conversions.
So, our solution works together with the affiliate network to ensure brands continue using the benefits of their affiliate marketing program and protect their margins from unfair commission payouts.
To learn more about how our solution protects brands from paying unfair payouts, go here.