Based on a survey across 455 style and fashion stores in July 2019, Littedata found that the average conversion rates were a mere 1.3% in the industry. The increasing number of brands going online may be one of the reasons for low conversion rates, but there is one underlying cause that often goes unseen – eCommerce adware on the consumer browser? In this post, we're talking about how the growing fashion industry faces conversion challenges owing to adware.
eCommerce fashion industry
According to The Fashion and Apparel Industry Report, the worldwide revenue of the industry is expected to rise from $481.2 billion in 2018 to $712.9 billion by 2022. The data only goes to say how consumers are choosing to make more purchases online when it comes to fashion, and the increasing number of brands that are going online to cater to the need.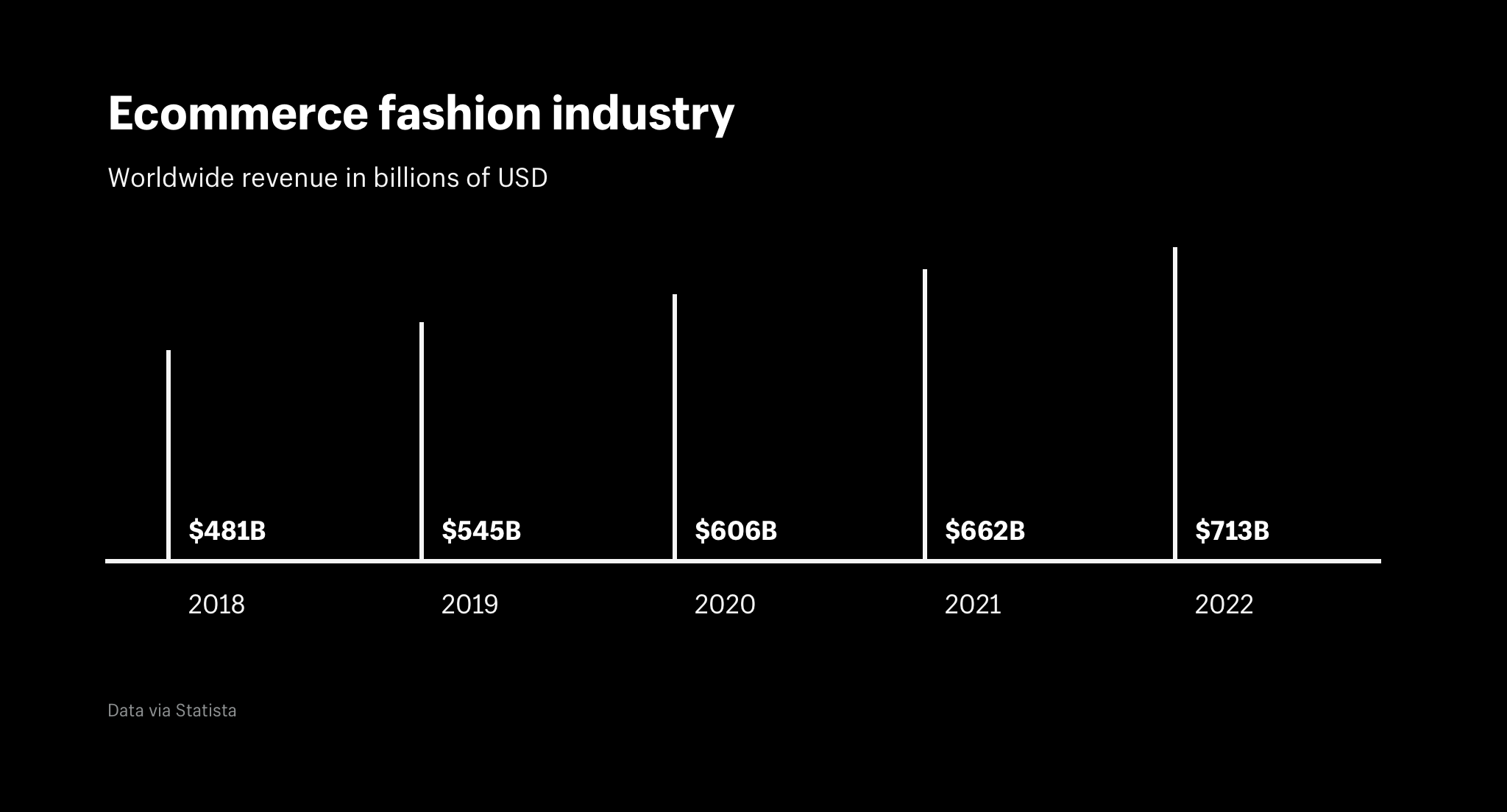 The biggest challenge for brands here is not setting up an online store or running paid campaigns to drive traffic to them. It is converting that traffic from shoppers to customers. That's where the consumer browser eCommerce adware further adds to the challenge.
What is consumer browser eCommerce adware? 
eCommerce adware is unwanted software that is designed to inject advertisements onto a screen through the web browser. It typically disguises itself as a legitimate promotion and piggybacks on another program to trick you into installing it – which is more often than not, the browser extensions and web apps your consumers are making use of.
The most common types of eCommerce adware injected onto store sites include:
Competitor advertisements
Spam popups
Price comparisons
Video advertisements
Adult content
Simply put, while you have implemented a CSP on your store, have optimized each of the product pages to make them sales-ready, the difference between what you want to offer and what the customer really sees is very different.
Take for instance, End Clothing UK. The brand definitely hadn't planned on showing cheaper alternatives to their products from Nordstrom and Kohl's on their product pages. But that's how their consumer sees it!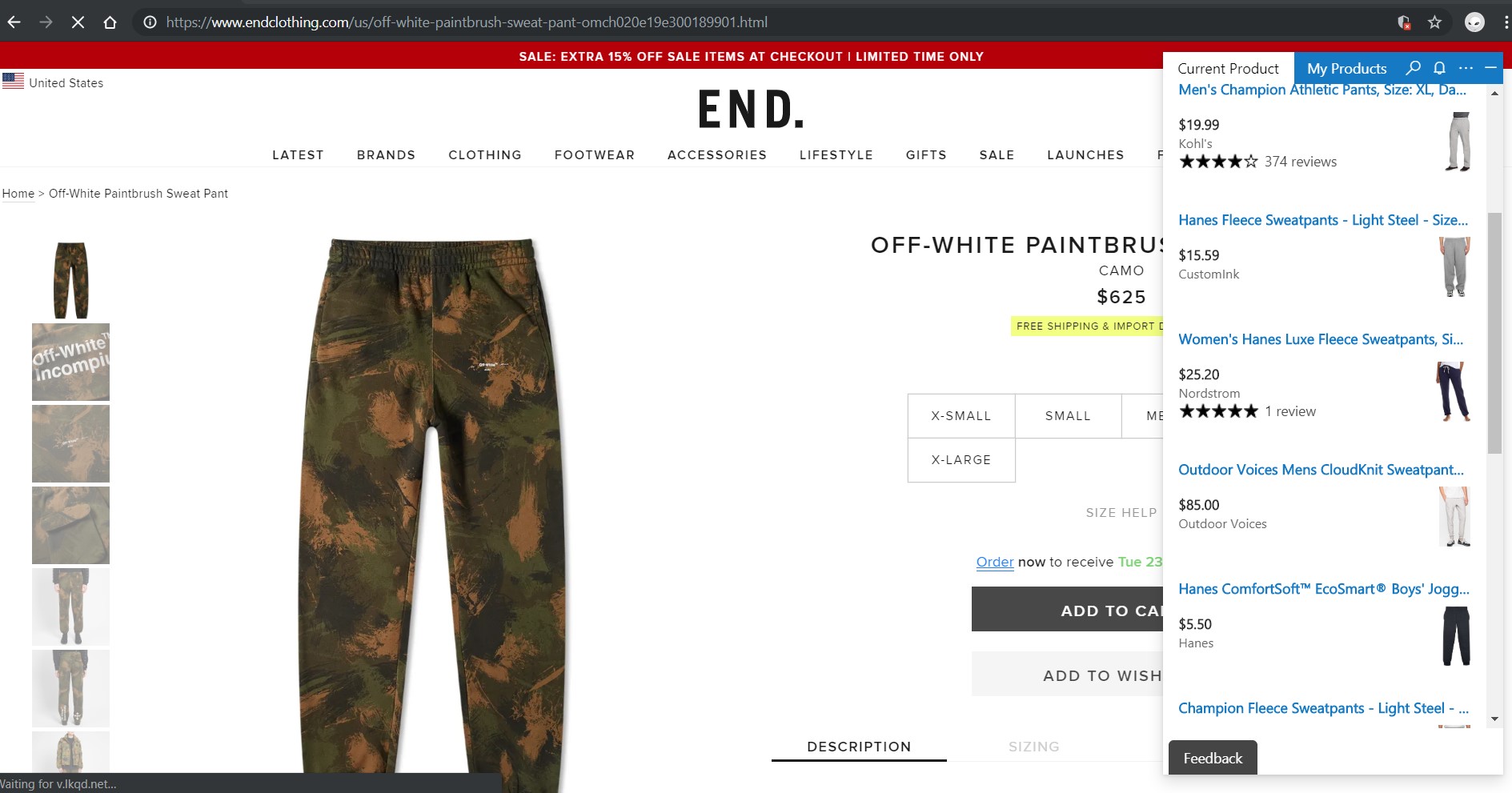 Most eCommerce adware is not really targeted at stealing data. All they aim at is distracting and luring the shopper away from your store. Now the decreasing attention span of the modern shopper and the distractions combined, only result in one thing – lower conversion rates.

As we highlighted in an article with Storetasker, your CSP is not enough to keep these ads away.
A typical CSP is not designed to continually adjust to the ever changing digital landscape and tackle the different kinds of adware that get introduced into the space. So while it keeps a few unauthorized intrusions at bay, adware still gets through to your site on the consumer browser through web apps and browser extensions.
How does browser injected eCommerce adware impact your store? 
1. Your competitors get to advertise on your site 
The most common format of eCommerce adware are competitor ads. Now that there is already so much competition in the market, this unauthorized advertising further leads to brands losing out on their sales.
But what's more damaging here is that they never know which competitor's ads are showing up on which of their pages to lure shoppers away.
For instance, your range of bottom wear may be impacted by eCommerce adware. But your lower range of products like accessories may not be. But in the end, you're losing out on the big ticket sale.
2. Your shoppers get distracted with price comparisons 
Most online shoppers are price-sensitive. No matter what your brand sells and how different it is from other fashion brands in the market, they will evaluate the choices they have.
A typical shopper will not refrain from landing on your online store, browsing through products and then looking for other brands that sell a similar range. Even if the quality might come down a notch, the shoppers are willing to give other brands a shot. This makes the competition for the shopper's attention even tougher!
Now what if these price comparisons start to show up on your site itself?
You see a product for $100 and then you see an ad on the same page that says a similar product is available for $50 on another store. What do you do? You obviously click through to check out the alternative. Who doesn't want to save a little more while shopping, right?
Price comparisons are the worst distractions when you're trying to turn a shopper into a customer.
3. Your product pages start taking longer to load 
Unauthorized ads such as videos can add more load to your product pages. They're not optimized to load faster, and combined with the high quality images and videos of the products you're already displaying, things only get worse.
Take this store for example. It's impacted with distracting competitor ads and a video ad that starts to auto-play.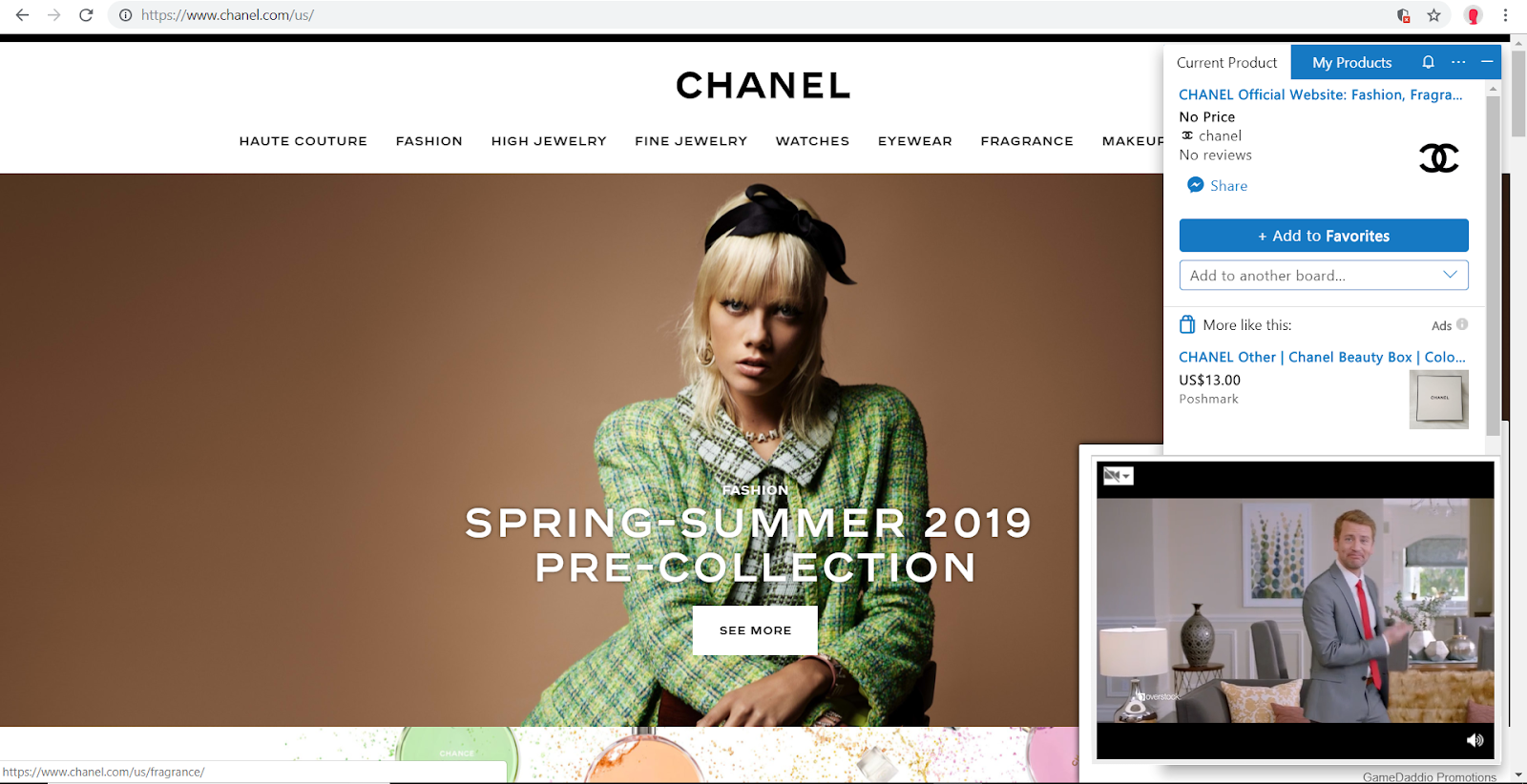 Now when these video ads make your page heavier, and there are delays by seconds in your page load time, you start to notice:
11% lesser product page views
16% decrease in customer satisfaction
7% loss in conversions
4. Your shopper's online customer journey is broken 
If you thought competitor ads and price comparisons are the worst that could happen to your fashion store, think again. These unauthorized ads result in hijacking your shopper's online customer journey – the natural flow in which they land on your store, browse products to wishlist or make purchases.
Let's take an example here.
You reach a brand's online store looking for a handbag. While you're browsing through the product description, you see a promotional banner displaying 'related products'. Obviously, you're going to think it is the brand recommending similar products from its range. But the moment you click on any one of them, you're taken to another site. That's not what you expected!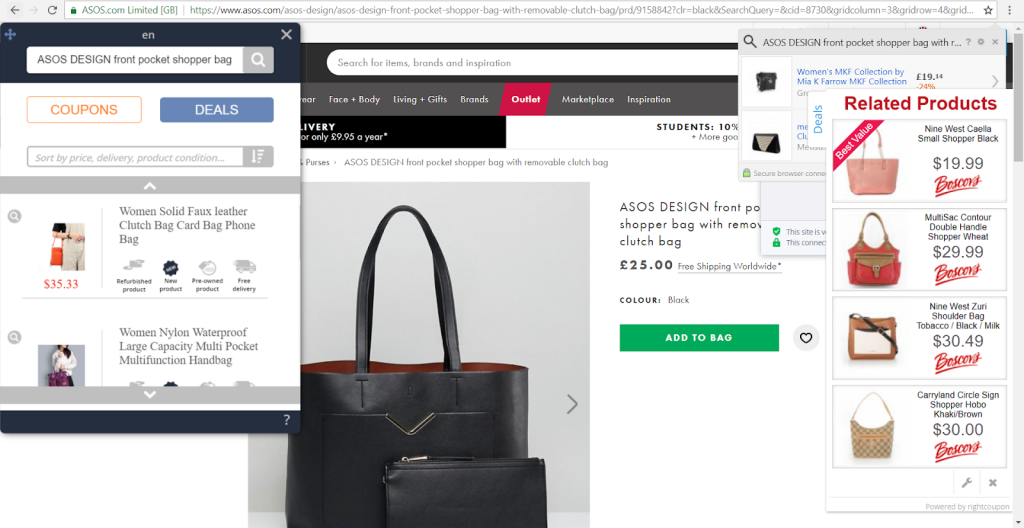 You were thinking you'll be directed to another product page on the same site and that you could come back to the product you were checking out any time. But now you're taken to a whole new site. So you'll have to come back to the previous store and look for that product all over again.
In most cases, once the shopper's online journey is broken, there is no return.
5. Your shoppers start doubting your brand 
If you're an experience shopper, you have set expectations from a brand. You expect your online journey right from the time you land on the store to the point where you make a purchase, to be seamless.
But what we gave as an example above is exactly what lets the shopper down. The shopper who came to your store with high expectations starts to doubt your brand's reliability. After all, you're displaying ads and content that takes them to other sites – you never know what kinds.
Global brands have even discovered adult content being shown to their shoppers. Imagine selling sustainable fashion products and displaying X-rated content on the same page!
Another most commonly seen format of eCommerce adware are the spam popups. These pop ups promise big prizes like an iPhone to the visitor. It's only when the shopper clicks on them do they realise it is spammy.
But in all this, the shopper blames you for the spam, not aware that the adware was injected by their own browser.
6. Your store sees higher product and cart abandonment rates 
When the shopper's online journey with a brand is interrupted, they are more likely to abandon the site altogether. Whether it is from the product page or one of the checkout pages, if something is distracting, you have lost a customer right away.
Analysing over thousands of global brands and their online stores, distracted shoppers are said to contribute to 20% of the sales being lost. That's a lot of customers to lose when you're spending thousands of dollars trying to acquire them through SEM campaigns.
Unauthorized ads injected by eCommerce adware on the consumer browser increase your product and cart abandonment rates drastically. With the average conversion rates already hovering around single digits, this further brings the number down.
Can you fight consumer browser eCommerce adware? 
Yes.
More than $25B worth of sales are lost to eCommerce adware in the US alone. Imagine taking into account the rest of the world where over 12,000 adware strains get introduced to the digital space every day. And the number of browser extensions and web apps that can possibly inject them into the consumer's browser.
The compounding effect of eCommerce adware strains and browser injected ads is too massive to be ignored.
So while you're focusing on offering shoppers the best of products, deals, and an amazing site to shop from, make sure they are seeing what you want them to on your site.
And that means you need to stop eCommerce adware from injecting these distractions before they're even shown to your shoppers. That's where eCommerce adware removal software like Shield by BrandLock come in.
It leverages the power of machine learning to analyze the adware strains on a regular basis. Working with a team of R&D experts, it then categorizes them and identifies the browser injected ads they may result in.
Using this data, Shield proactively removes these ads from your site before they even show up – irrespective of the device and the browser a shopper is using. Removing these distractions have actually helped brands increase their conversion rates by a whopping 16%.
So if your fashion eCommerce business has been losing sales for reasons unknown, it is time to see if adware has been taking your shoppers away.
Stop losing customers to competitors. 
Get Shield today.