Over the past few years, internet users are increasingly complaining about misleading and malicious ads popping across websites. Be it the biggest online brand or one that has just begun, they seem to be hard to get rid of. They not just make it almost impossible to interact with the website but also lure internet shoppers away to other sites. In this article, we're sharing everything you need to know about browser injected ads.
What are browser injected ads?
A typical internet user has at least ten browser extensions and web apps in use. Be it to simply compare prices on two sites, invite friends to like a Facebook page, schedule items in a to-do or simply to get price alerts.
Now, these softwares are definitely nifty for the internet user. But what they also do is change the way your site is shown to the consumer who's browser they are installed on. They inject unauthorized ads into the site, that results in distractions such as popups, competitor ads, adult content, video ads and other malicious promotions appearing on your site.
So while you believe your site is well optimized to offer a great experience to visitors and drive conversions, the reality looks different. Here's how browser injected ads make your site appear on the consumer's browser: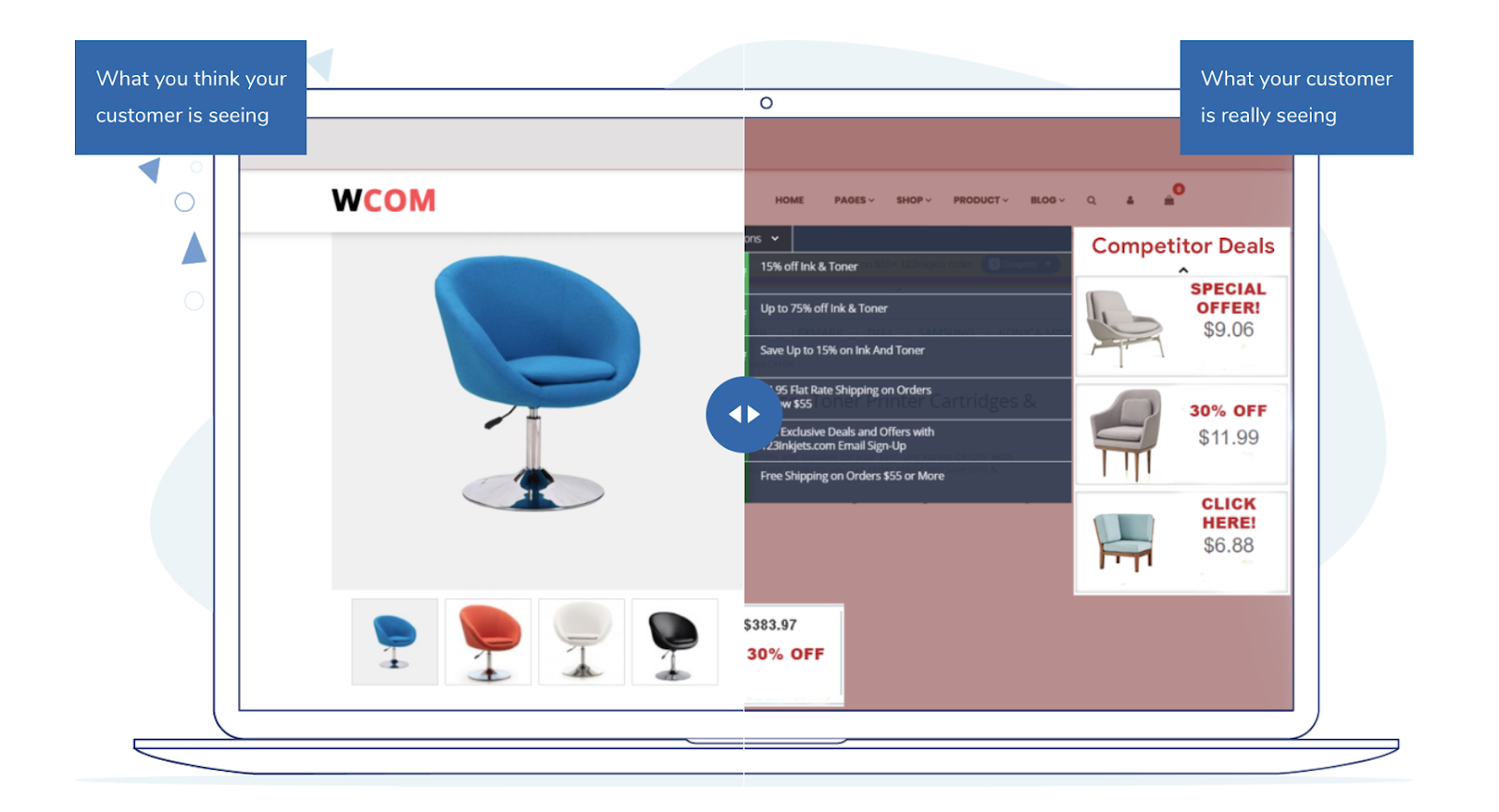 The adware can insert new ads or replace the existing ones during the web surfing session of an internet user. And Google estimates that about one in every twenty internet users is exposed to these browser injected ads.
Where do these browser injected ads come from?
Browser injected ads are caused by adware. The adware comes from infected web apps and browser extensions on the consumer side.
With an increasing number of browser extensions and web apps, it is really hard to nail down the problem. That's why it is important to identify these browser injected ads in real time.
But that's not the worst part.
The worst is that your customers don't know the difference between your promotions and these browser injected ads. This can not just lure them away from your site to other competing websites, but also hamper their perception of your brand.
Take for instance this site. The browser injected ads – related products, blend in so perfectly with the design that there is no way of telling that they are not being run by the site itself.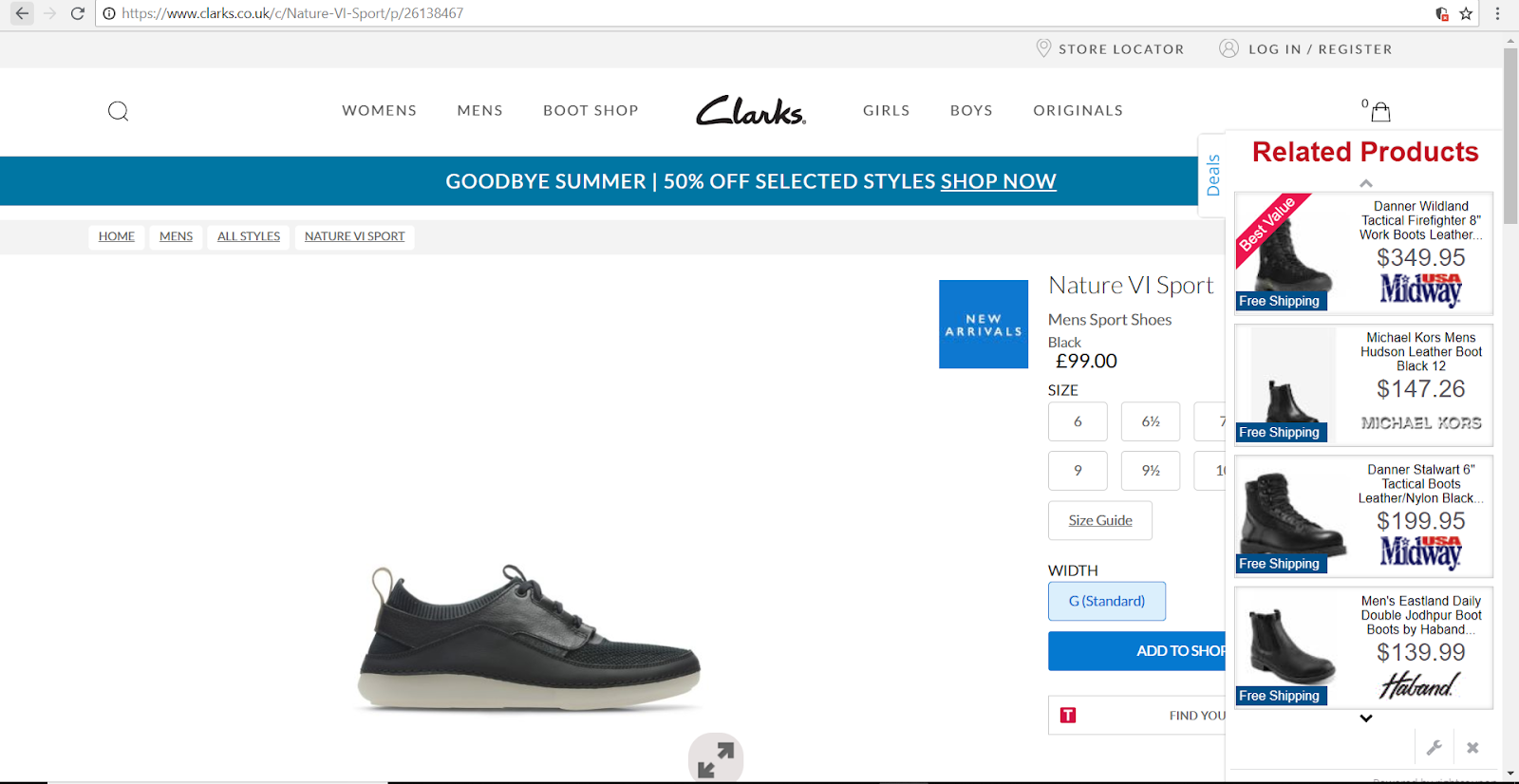 What do browser injected ads look like?
Different types of adware inject different types of ads into the consumer's browser. Simply put, browser injected ads look different for different internet users. The only thing common about them is how they trick your site visitors into thinking it is a promotion being run by you.
After monitoring 300,000 adware strains every day and identifying 35 million malicious scripts, we found that the following types of browser injected ads the most common (along with malvertising examples):
1. Adult Content
One of the most damaging forms of browser injected ads is adult content. Imagine selling handmade products for children and on the same page, an ad promoting a free adult game. You'll immediately find the site dubious and leave, no matter how good the product was.
Since this type of content flouts brand safety guidelines of businesses, they are said to cause consumer mistrust and loss of brand image.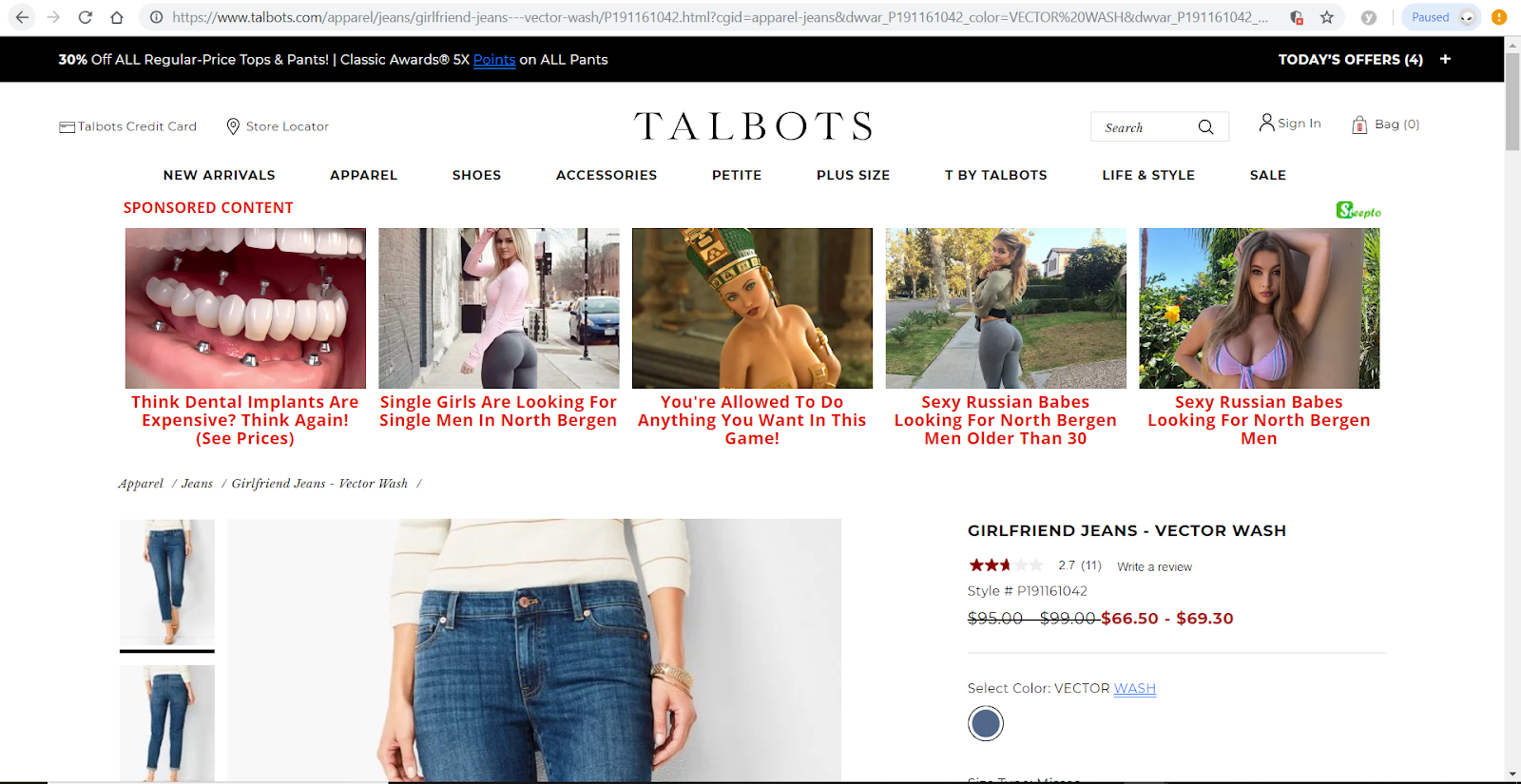 2. Competitor Ads
Imagine a competing brand walk into your brick and mortar store with their promotional banners. You wouldn't take a second to ask them to leave or call the authorities. Similarly, some browser injected ads display competitor promotions on your site. They could be on the same product or one that is similar to it, luring the shopper away.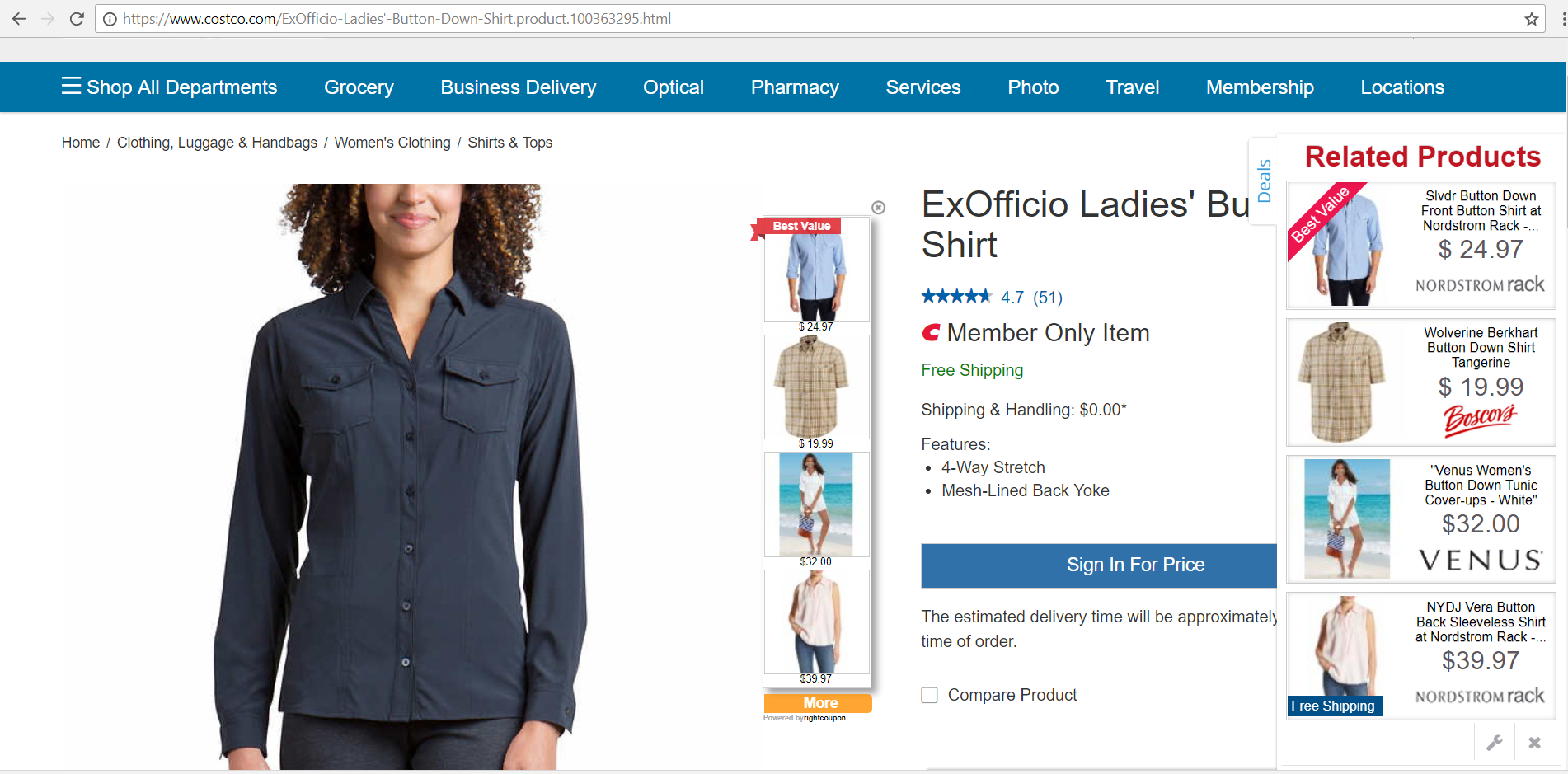 3. Popup Ads
Using popups to grab your visitor's attention and promote an ongoing deal leads to more conversions. But when these popup ads have nothing to do with your goals, they only take away your sales. Imagine browsing through products and being targeted by a popup that says you won an iPhone X or one that promises you a better deal than what you're seeing. They're not just an attempt at luring your shopper to another website, but also ruin the shopping experience on your site.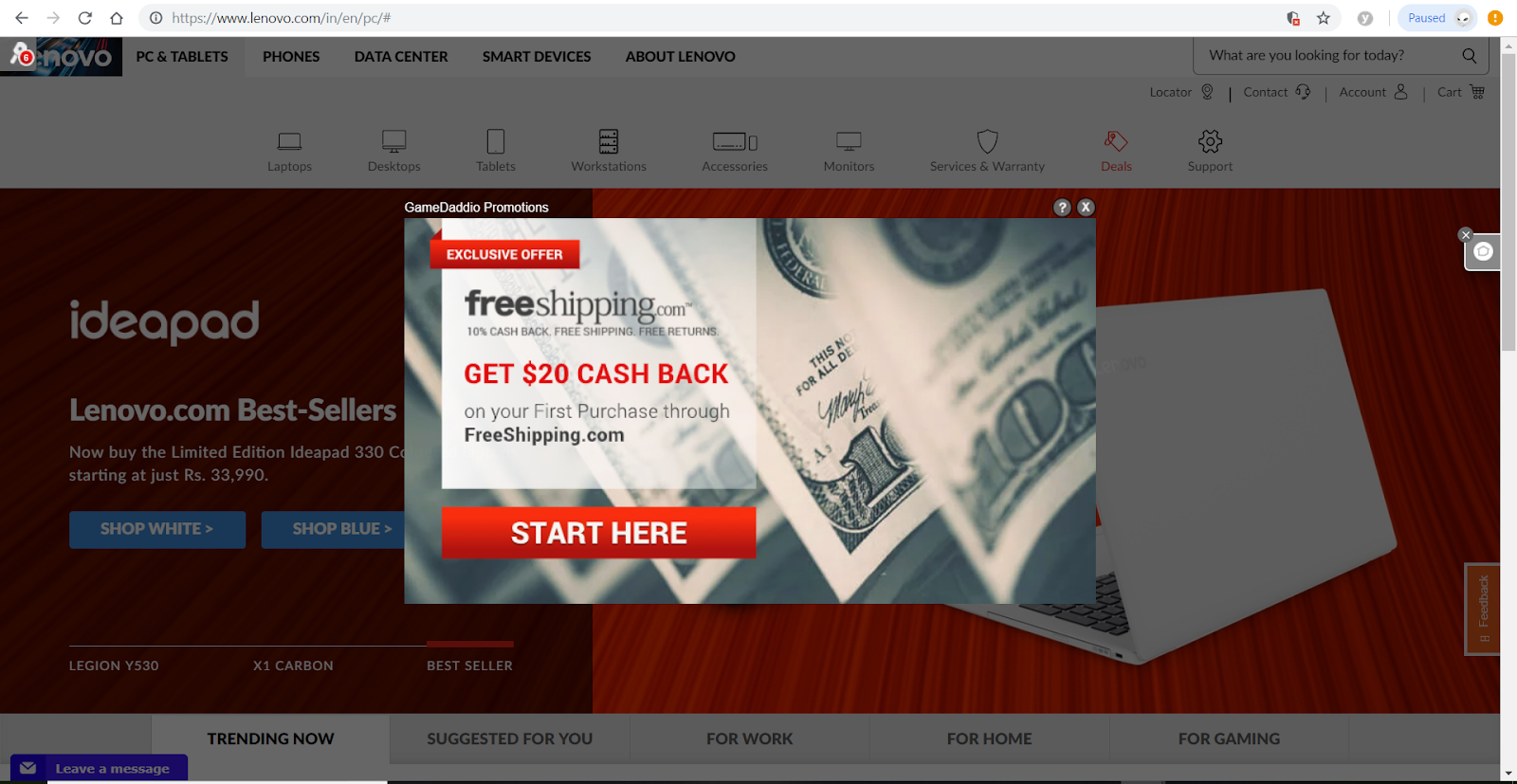 4. Video Ads
Browser injected ads may show up in the form of videos too. These ads begin to autoplay as soon as the page loads, distracting the shopper from focusing on the product details the site is offering. You don't just lose the shopper's interest, but also are at the risk of longer load times, decreasing your on-site conversions further.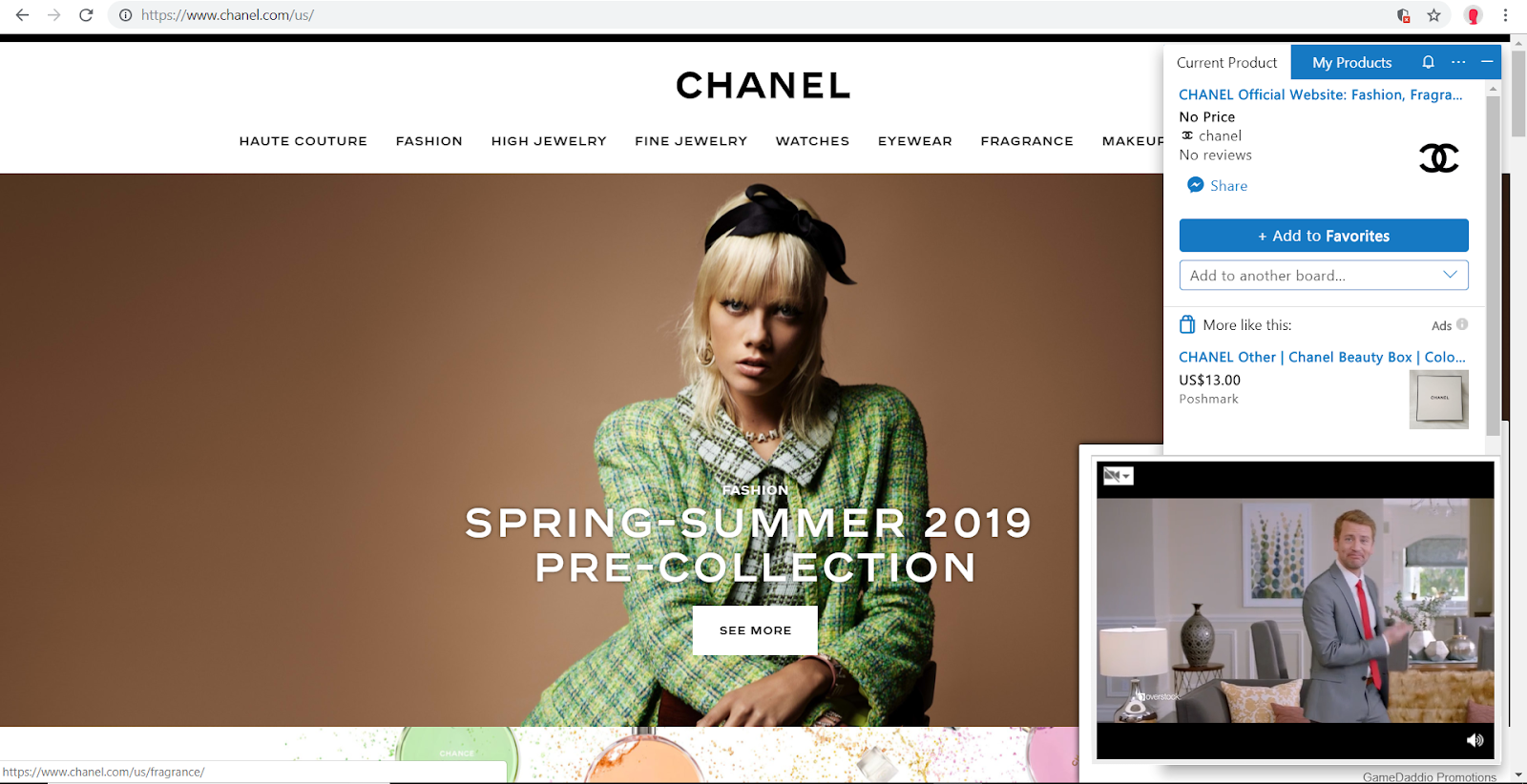 5. Price Comparisons
These browser injected ads clutter your product pages with competing deals from other websites or offers on your affiliate partners. Highlighting a price difference in what your page offers and what another site does, they immediately distract the shopper. Even if it is $10 difference in the cart total, the shopper gets lured away to the site being promoted.
Whose fault are browser injected ads?
Blaming your own security infrastructure for not being competitive enough is not right. Blaming your shoppers for using so many browser extensions and web apps is not right either. So who do you blame for these browser injected ads?
There are companies out there that monetize from their software by bundling it with ad injectors. Then there are publishers who deliberately install ad injection plugins on their website to display more ads and monetize higher.
Additionally, there is programmatic ad buying. The process of automatic buying and selling of digital inventory has also reduced data transparency over the years.
So there's no one side that you can blame for browser injected ads. They exist due to the lack of transparency in the digital landscape.
What is the impact of browser injected ads?
You might think that not all sites are impacted by browser injected ads. Well, you're wrong.
Even Amazon was hit by browser injected ads. They filed a suit citing the sophisticated and widespread nature of adware across the world, caused by adtech.
Soon after it was discovered that there were 12,000+ adware strains introduced into the digital space every day. The ads injected by these adware strains resulted in businesses losing $25B worth of sales in the US itself. Now taking an approximation across other countries, imagine the total amount of sales the online retail industry is losing to browser injected ads!

Apart from sales, brands lose the trust of their customers. That leads to a decrease in their conversions and overall revenue. No one wants to interact with a brand that advertises near objectionable content.
Now imagine what happens when that objectionable content gets promoted on your site in such a way that it looks like your own?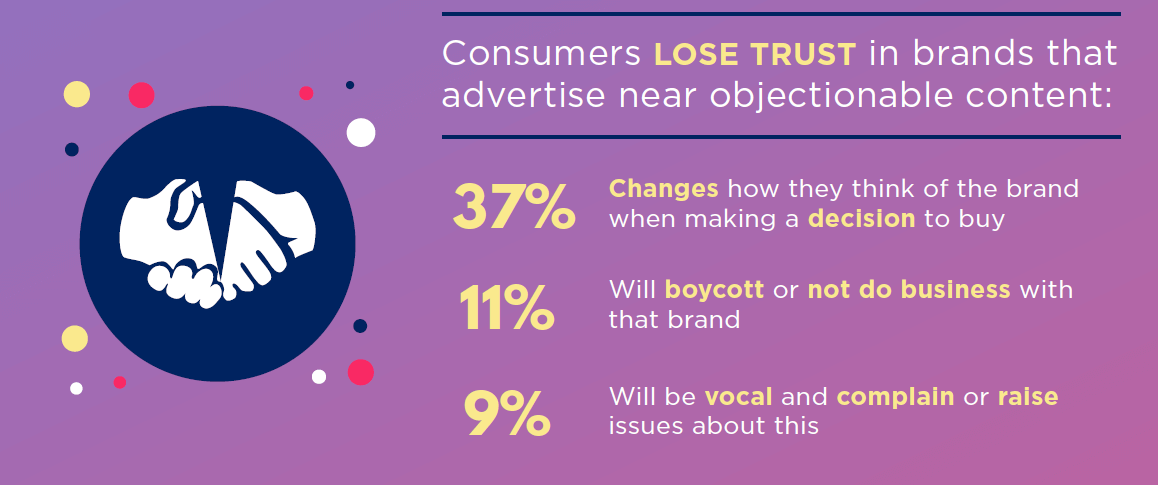 And even that's not all. Browser injected ads also increase your affiliate payouts.
Now typically, your shopper will add some products to their cart and then head over to search to look for coupons. Most likely they will land on your affiliate sites. They will pick up a coupon from there and come back to your site to see if it is valid. That's normal!
But when the consumer's browser is infected with adware, some of your affiliates start to display ads on your site itself. The promotional ads blend in so perfectly with the design that they seem like those being run by you. So obviously your shoppers click on them – only to realize they are being taken to another site.
They circle back from that site with the coupon that was being promoted to get the discount on the cart total. Well, you didn't realize this yet, but you just got charged by your affiliate for sending back your own traffic.
Affiliate frauds have led to online merchants losing a whopping $7.9B during Cyber Mondays. Now imagine if these browser injected ads show up on your site through the year, what the loss would sum up to be!
For instance, Kirkland's was aware of what browser injected ads were. But they weren't aware of how they showed on their site or what impact they had on their conversions. That resulted in most of their site traffic being bombarded with these seamlessly blended browser injected ads: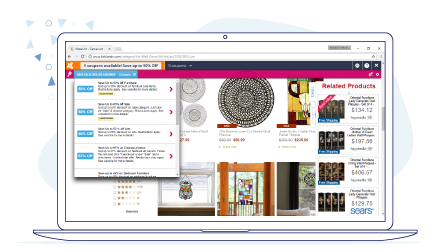 Can you remove browser injected ads?
TLDR: Yes.
But let us explain how.
If you can monitor the 12,000+ strains introduced into the digital space every day, and then build a security infrastructure that keeps them away from the consumer's browser – yes, you can. But it can take you a very long time to build this infrastructure, identify the adware and the types of browser injected ads they are resulting in.
That's where Shield comes in.
Now you can't stop your shoppers from installing a price comparison browser extension. Nor can you stop them from using web apps that help them save the content they read online, organize their tasks and much more.
Shield basically plugs into your site with a single line of code. It then proactively seeks out adware strains on the consumer's browser as soon as they open your site. Identifying the adware in seconds, it prevents the browser injected ads from showing up.
So irrespective of the device or the browser your site is being viewed on, browser-injected ads are kept at bay.
When there's nothing trying to lure the shopper away or slow down your page load time, you automatically increase conversions.
After running a quick A/B test with Shield, on their traffic, Kirkland's noticed that shoppers who weren't exposed to browser injected ads, converted higher. Removing the distractions led to the brand increasing its overall revenue by 6% and its conversion rate by 11%. (Read the complete case study)
Are you impacted by browser-injected ads?
It took the biggest of brands months (and in some cases, years) to realize they were impacted by browser-injected ads. That too, not on their own.
Their customers sent them emails and messages on social media complaining about their shopping experience. They mentioned being taken to other sites from the brand's promotions, taking the brand by surprise. That's when they knew their site was promoting ads and content from other sites – competitors, affiliates and others.
But it doesn't have to be that way.
Before your shoppers are taken away or start complaining about these browser-injected ads, we can help you identify and stop them from showing up.
How do we do it?
With a ready list of 35 million adware scripts identified (and increasing), a machine learning algorithm, and a team of R&D experts. Shield monitors your site in real-time to identify the adware injected by the consumer's browser. It then proactively removes them before they even show up to the shopper.
Want to know if your store is losing sales due to browser injected ads?